Recipes
Cherry Dr. Pepper BBQ Ribs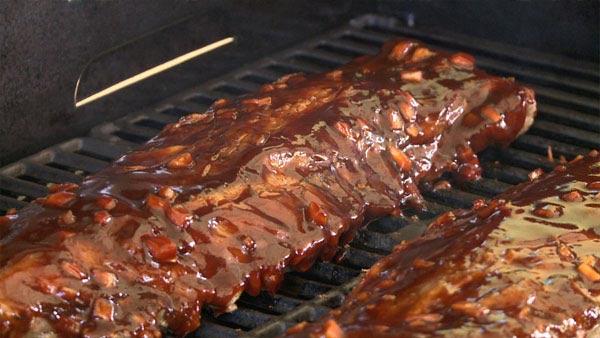 Servings: 4-6
Difficulty: Easy
Time:
Provided by: Chef Ryan Scott
2 slabs baby back pork ribs, 4-5 pounds total
1 1/2 cups Cherry Dr. Pepper Barbecue Sauce (see recipe below)
Salt
Ground black pepper
Directions
Preheat oven to 350 degrees F.
Cover two baking sheets with long pieces of heavy duty foil.
Sprinkle both sides of ribs with salt and pepper.
Place on prepared baking sheet.
Fold foil over ribs to cover and bake until tender, about 1 hour.
Open foil and spread a half of barbecue cup of sauce over each slab (recipe below).
Bake for 20 minutes.
Serve ribs hot with remaining barbecue sauce.
Cherry Dr. Pepper Barbecue Sauce Ingredients:
1/4 cup vegetable oil
1 medium yellow onion, minced
4 cups Dr. Pepper Cherry
3/4 cup ketchup
1 tablespoon Tabasco sauce
1/3 cup light brown sugar, packed
Pinch of salt
Pinch of ground black pepper
1/3 Cup Honey
Place oil in a medium saucepan over medium high heat. Add onions and cook, stirring often until soft, about 3 minutes.
Add Dr. Pepper, ketchup, Tabasco, brown sugar, honey, salt and pepper, stirring to combine.
Bring to a boil, reduce heat to medium low and simmer until thickened, 50-60 minutes.
Remove from heat and let cool to room temperature.
Store in an airtight container and chill for up to 5 days or freeze.
Tip: Plan ahead and cut your cooking time by baking the ribs for an hour then cooling and refrigerating. Finish cooking the next day, either on the grill or in the oven.