Recipes
Char Siu Mini Tacos with Bok Choy Slaw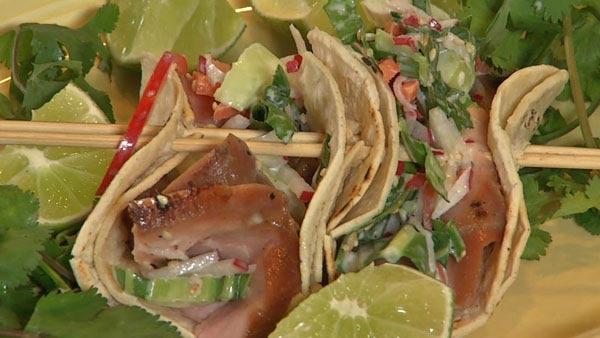 2 tablespoons garlic, minced
4 tablespoons fresh ginger, minced
1/2 cup sherry wine
1/2 cup low sodium soy sauce
1/2 cup Hoisin sauce
2 tablespoons brown sugar + 1/2 cup brown sugar for Honey Baste
2 tablespoons sesame oil
2 tablespoons dry mustard
2 teaspoon Chinese 5 spice powder
1 1/2 teaspoon white pepper
2 2-3 pound pork tenderloins
1 cup honey
1/2 cup reserved marinade
16-24 mini corn tortillas charred
Directions
To make the Char Siu (the marinade), mix together the garlic, ginger, sherry, soy sauce, Hoisin sauce, brown sugar, dry mustard, sesame oil, Chinese spice powder and white pepper.
Place the tenderloins in a large zip loc bag and pour in marinade.
Reserve 1/2 cup marinade.
Refrigerate overnight or up to two days. Turning to coat the pork well.
Preheat the oven to 400 degrees.
Line a shallow baking pan with foil and place a rack in the pan.
Thirty minutes before cooking, remove the pork from the marinade.
Place the tenderloins on a rack and brush them generously with the Honey Baste -- 1 cup honey, 1/2 cup brown sugar and 1/2 cup reserved marinade.
Roast the tenderloins for 10 minutes at 400 degrees.
Decrease oven temperature to 325 degrees and continue to roast until the internal temperature reaches 145 degrees, about 15 minutes
Turn and baste the roast two times during cooking.
Brush the meat with the baste when you remove it from the oven.
Loosely cover the meat with foil and let it rest at least 5 minutes before slicing.
This is also delicious grilled on the BBQ.
Bok Choy Slaw:
2-3 cups baby bok choy, thinly sliced, including green tops
1/4 cup carrots, grated
1/4 cup red radishes, thinly sliced
2 tablespoons cilantro, finely chopped
3-4 green onions, thinly sliced, use green part
1 Fresno pepper, seeded and thinly sliced
1 tablespoon toasted sesame seeds
Dressing Ingredients:
4 tablespoons seasoned rice vinegar
2 tablespoons mayonnaise
1 tablespoon sugar
1 teaspoon kosher salt
1/2 teaspoon white pepper
Mix the ingredients together for the Bok Choy Slaw and toss with the dressing.
Assembly Directions and Pork Tips:
Assemble the tacos and thread them two to three on a skewer to keep them upright on a serving platter.
After the tenderloin is marinated it can be frozen in a zip loc bag for up to three months.
This pork is great in fried rice, soup or added to a stir fry.
This marinade is great for pork ribs or pork chops, too.
Note: (If mini 3-4 inch diameter tortillas are not available, cut them out of regular tortillas with a cookie/muffin cutter.)