Recipes
Calzones with Pepperoni and Zucchini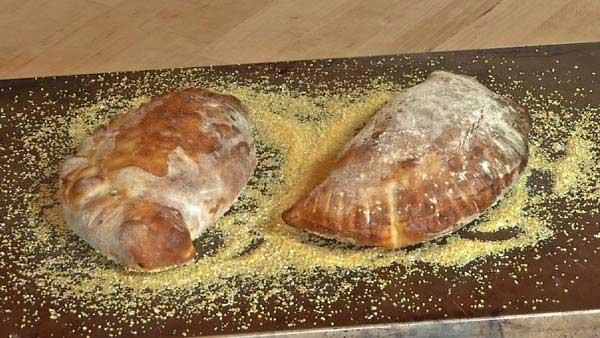 Servings: 8
Difficulty: Intermediate
Time:
Provided by: Chef Ryan Scott
8 3ounce balls of basic dough (see recipe below)
2 cups of Roasted Pepper Marinara Sauce (see recipe below)
2 cups of shredded mozzarella cheese
40 thin slices of pepperoni
2 -3 zucchini, thinly sliced in rounds
Corn meal for dusting pan
2 eggs, well beaten
Directions
Preheat the oven to 450 degrees.
Place a pizza stone or inverted large baking sheet in the oven. Dust with cornmeal.
Dust your work surface lightly with flour.
With your fingers and palms, flatten the dough round into a 10 inch oval, about 1/4 inch thick. Click here for the homemade dough recipe.
Place some of the cheese just above the center of the oval.
Follow with a few spoonfuls of marinara. Click here for the red pepper marinara sauce recipe. layer the pepperoni and zucchini and top with more cheese.
Be careful not to overfill or it will come out the sides.
Fold the dough to form a half-moon and then press the edges to seal.
Fold the edge up with your fingertips and pinch closed to form a ridge all the way around or use a fork.
Repeat with the remaining dough.
Brush the calzones with the egg wash.
Vent the calzones with a few small cuts in the top.
Place the calzones directly on the pizza stone or sheet pan.
Bake for 12 15 minutes, until golden brown.
Serve hot, room temperature or cool.