Recipes
Buttermilk Pancakes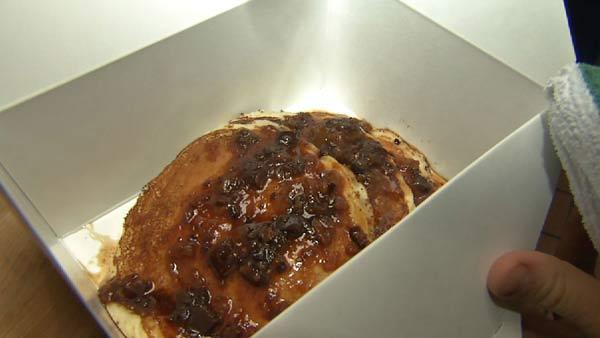 Servings: 4-6
Difficulty: Easy
Provided by: Ryan Scott
2 cups AP flour
2 tablespoons sugar
1 teaspoon baking powder
1/2 teaspoon baking soda
1/2 teaspoon salt
2 cups buttermilk
2 large eggs
3 tablespoons unsalted butter, melted and cooled
1-2 teaspoons vegetable oil
Directions
In a large bowl whisk flour, sugar, baking powder, baking soda & salt together.
In a medium bowl beat lightly together the buttermilk, eggs and melted butter.
Make a well in the center of dry ingredients and pour in wet ingredients; gently stir until just combined. Do NOT over-mix. Batter should be lumpy.
Let batter sit for 10 minutes.
Heat a non-stick pan or griddle with 1 teaspoon of oil. Wipe out excess.
Use ¼ cup of batter for each pancake.
Cook until edges are set, first side is golden brown, and bubbles on surface are just beginning to break.
Flip pancakes and cook until second side is golden brown.
Serve immediately, or transfer to wire rack in 200 degree preheated oven.
Tips for Buttermilk Pancakes
Whether you're making pancake mixture from scratch or from the box, do not overbeat. It's okay to have lumps! You want to mix until the ingredients are just combined. If your mixture is too fine, then your pancakes will be dense.
Cook on medium-low speed. This will allow the pancake to cook more thoroughly on the inside rather than burning quickly on the outside.
Resist the temptation to flatten your pancakes. Flattened pancakes will be dense rather than fluffy and airy.
The best time to flip is when you see bubbles forming not the small ones that pop up immediately, but the larger bubbles that appear as the pancake becomes a golden brown.
Make your breakfast the Ryan way: Add pineapple, banana, or another fresh fruit into the center of your pancakes while they're cooking. If you're craving that sweet and savory taste, throw in some bacon!

Click here for the recipe for caramelized pineapple topping for pancakes.