Recipes
Butter Sauce for Roasted Lobster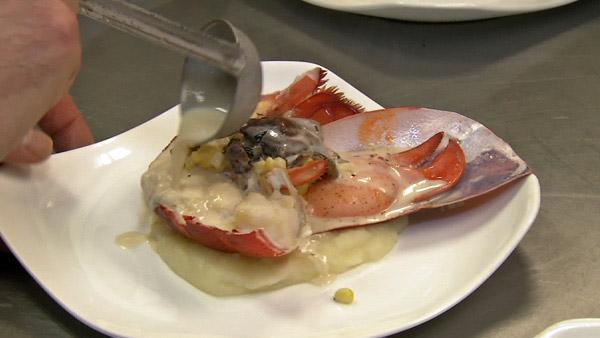 Servings: 2 cups
Difficulty: Intermediate
Time:
Provided by: Chef Ryan Scott
1 8oz bottle of clam juice
1 cup water
1 cup heavy cream
1/2 cup blanched sweet yellow corn
1/2 cup roasted shitake mushrooms
1/4 minced tarragon
1 pound cold unsalted butter, cut in small cubes
Directions
In a medium saucepan mix clam juice and water and boil until reduced in half.
Slowly add cream and heat to a low boil. Stirring often.
When the liquid is boiling, add butter in small batches mixing thoroughly to emulsify the butter completely.
Continue using all the butter. Then add mushrooms, corn and tarragon.
As the sauce cools it will separate.
Serve warm, whisking before pouring over lobster.