Recipes
Bourbon, Raisin and Walnut Cookies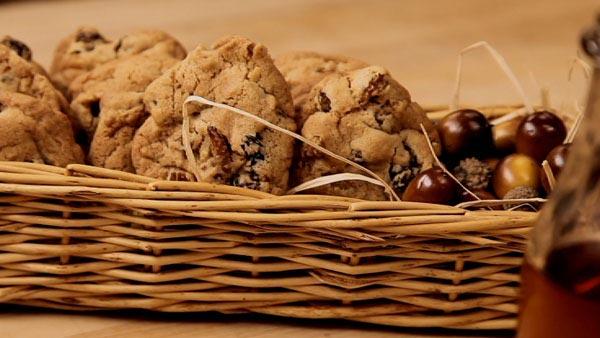 Servings: 24
Difficulty: Easy
Provided by: Shannon Ambrosio
3/4 cup sugar
1/4 cup dark brown sugar
3/4 cup butter, unsalted, room temperature
1 egg
1/2 teaspoon vanilla extract
3/4 teaspoon baking soda
1/4 teaspoon salt
2 cups AP flour
1/2 cup bourbon, separated in half, *and a little for tasting
1/4 cup raisins
1/4 cup golden raisins
1/4 cup walnuts, rough chop, left in big chunks
Directions
1. In a small sauce pot on medium heat combine all the raisins and ¼ cup bourbon and cook until the bourbon is reduced and becomes syrupy (approx. 4-5 minutes) and alcohol has evaporated. Transfer to a bowl and let cool.
2. Cream together the sugars and butter until smooth.
3. Add the vanilla, egg and ¼ cup bourbon until smooth.
4. Sift together: flour, salt and baking soda.
5. Add the dry ingredients to the butter mixture, in three batches until it is all incorporated.
6. Fold in the cooled raisins and walnuts.
7. Use a 1/2 ounce scoop to make the cookies.
8. In a preheated 350 degree oven bake on a parchment lined baking sheet for 10-12 minutes or until golden brown.