Recipes
Basic Fruitcake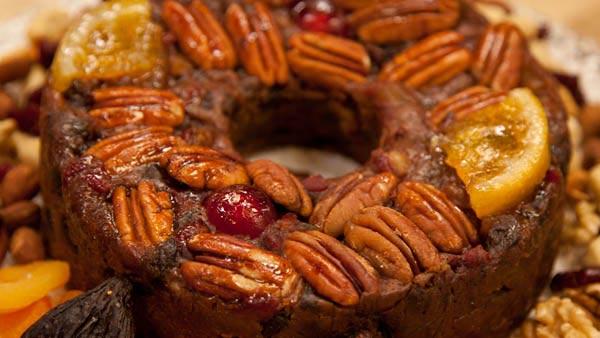 Servings: 12- 16
Difficulty: Easy
Time:
4 cups dried fruit i.e. any combination of your choice
Zest of one lemon
Zest of one orange
1 cup liquid, rum, brandy, bourbon or substitute fruit juice
1 cup sugar
5 ounces butter, unsalted (1 1/4 sticks)
1 cup unfiltered apple juice
4 teaspoons dried spices i.e. cinnamon, cloves, nutmeg, allspice, etc.
1 3/4 cup AP flour
1 ½
teaspoons salt
1 teaspoon baking soda
1 teaspoon baking powder
2 eggs
1/2 cup nuts, toasted and chopped i.e. walnuts, pecans, hazelnuts, etc.
Liquid for basting, juice or alcohol
Directions
1. Preheat oven to 325 degrees.
2. In a medium saucepan combine dry fruit with liquid over medium low heat. Once it is brought to a low boil, remove from heat and let sit covered for 5-8 minutes until fruit is rehydrated.
3. Bring the fruit and liquid, sugar, butter, apple juice and spices to a boil in a medium saucepan over medium heat, then simmer on low for 5- 10 minutes. Remove from the heat and let cool for 15 minutes.
4. While fruit mixture is cooling, prepare the batter.
5. Combine the dry ingredients from flour to baking powder and sift into fruit mixture.
6. Mix with a wooden spoon.
7. Full mix in eggs one at a time.
8. Fold in the nuts.
9. Put in a buttered Bundt pan.
10. Bake for one hour or until inserted toothpick comes out clean.
11. Baste with alcohol or liquid.
12. Let cool in a pan.