Recipes
Basic Bread Dough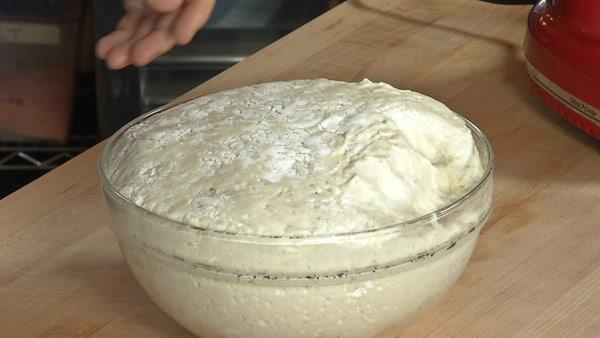 Servings: 9, 3 oz balls
Difficulty: Easy
Time:
Provided by: Chef Ryan Scott
1 ounce fresh yeast or 3 7g packets
2 tablespoons sugar
2 cups + tepid water
6-8 cups bread flour
1 tablespoon fine sea salt
Extra flour for dusting
Directions
You can make this dough on a floured board by hand or mix it using a large free standing mixer. <p. Combine the yeast, sugar and 1 cup of the water. Stir and let start to combine. Slowly add the flour in batches alternating with the remaining cup of water, mixing well after each addition. Use the mixer on a low to medium low speed maximum.
When all the flour is incorporated and the mix is less sticky continue mixing for 4-6 minutes until you have a silky, smooth and elastic dough.
Flour your hands. Remove the dough and form it into a large ball. Flour the top of your dough.
Put it in a bowl, cover with plastic wrap or a towel and allow it to proof for about 30 to 45 minutes until it is doubled in size. Keep it in a warm and draft free place.
Cut the risen dough into 3 ounce pieces and knead each portion into a ball. At this point you can freeze the balls individually for later use or make your calzones.