Recipes
Baguette Pizza with Roasted Grapes, Red Pickled Peppers and Brie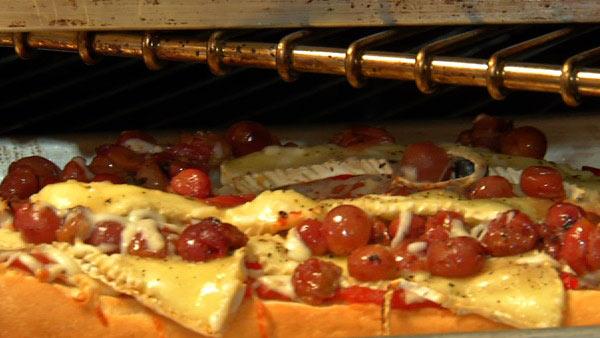 Servings: 2
Difficulty: Easy
Time:
Provided by: Ryan Scott
1/2 large French baguette sliced open
1 cup marinara sauce
1 cup grated mozzarella
4-6 sliced red pickled peppers, sliced
4 ounces sliced Brie
1 teaspoon kosher salt
2 cups roasted red grapes
Directions
Preheat oven to 350 degrees
1. Generously spread marinara sauce on open face baguette.
2. Top with grated mozzarella.
3. Sprinkle with peppers.
4. Place the brie in a single layer on the peppers.
5. Sprinkle with kosher salt.
6. Top with grapes.
7. Place the pizzas on a baking sheet.
8. Bake in preheated oven for 15-20 minutes.
Roasted Grapes
2 cups red grapes
1 tablespoon extra virgin olive oil
1 teaspoon fresh thyme leaves or 1/2 t dried
Kosher salt and freshly ground pepper
Preheat the oven to 425 degrees
1.Toss the grapes with the olive oil, thyme, salt and pepper.
2.Place the grapes on a baking sheet.
3.Roast for 8-12 minutes.