Recipes
Bacon Chocolate Chip Cookies with Maple Ice Cream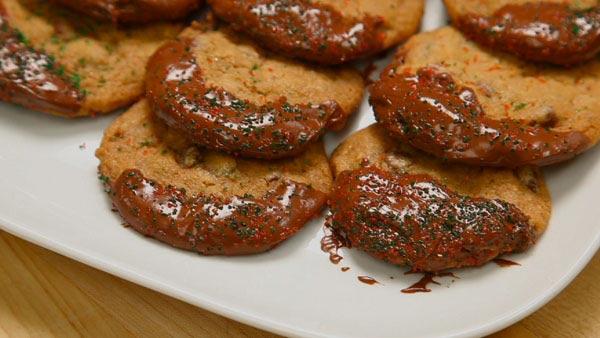 Servings: 40
Difficulty: Intermediate
Time:
Provided by: Shannon Ambrosio
4 ounces dark brown sugar
4 ounces sugar
5 1/2 ounces butter, softened
2 1/2 ounces bacon fat, cooled till solid, but soft
1 egg
1/2 teaspoon vanilla extract
10 ounces AP flour
1/4 teaspoon salt
1 teaspoon baking soda
5 ounces milk chocolate chips
1 pound bacon, cooked, cooled and chopped Dipping chocolate (recipe below)
Maple ice cream (recipe below)
Directions
Note: Measure and prepare all your ingredients.
1. Preheat oven to 375 degrees F.
2. Line baking sheets with parchment paper.
3. Sift dry ingredients.
4. Using a stand mixer or electric hand mixer on low to medium, mix together butter, bacon fat, brown sugar and sugar until creamy.
5. Add egg and vanilla on low speed until combined. Do not over mix.
6. Add the dry ingredients in batches until incorporated. Do not over mix.
7. Fold in the chocolate chips and bacon.
8. Use a 1/2 ounce scoop to measure the dough onto the prepared pan 1 to 2 inches apart.
9. Bake for 12 to 15 minutes.
10. Transfer cookies to a cooling rack until set.
11. Dip the cooled cookies into the melted chocolate, 1/4 to 1/2 of the cookie.
12. Sprinkle with red and green finishing sugar.
For Dipping Chocolate: 1 pound Couverture chocolate (Milk)
1/8 teaspoon cayenne pepper
Red and green finishing sugar
1. Melt the chocolate in a double boiler.
2. Do not let the temperature exceed 100 degrees F.
For Maple Ice Cream:
4 ounces egg yolks = 6 yolks
6 ounces sugar
2 cups milk
1 cup heavy cream
1 1/2 teaspoon maple extract
1/2 teaspoon vanilla extract
pinch of salt
1. Mix egg yolks and sugar together in a stainless steel bowl.
2. Heat milk, heavy cream and maple and vanilla extract and salt in a 3 quart saucepot until it is warm to the touch.
3. Add 1/3 of the warm milk mixture to the egg yolk mixture and stir with a wooden spoon. Be careful that the mixture is not too hot. This is called tempering.
4. Once the mixture is incorporated pour the warm mixture into the rest of the heated milk in the saucepot.
5. Heat this mixture on low heat until the mixture coats the back of a wooden spoon. This is called nappe.
6. Strain the mixture through a sieve into a chilled bowl and refrigerate until cold.
7. Add the mixture to the ice cream maker and churn according to the directions.