Recipes
Apricot Granola Crisp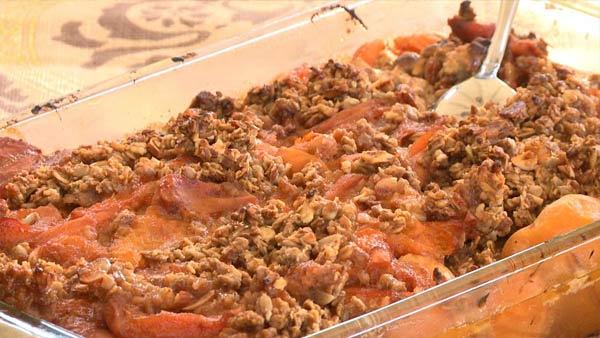 Servings: 4-6
Difficulty: Easy
Time:
Provided by: Chef Ryan Scott
1 tablespoon of warm unsalted butter plus 1/4 cup (half stick) unsalted butter, cold
12 ripe apricots, seeded, about 2 1/4 pounds
1/2 cup light brown sugar, packed
1 teaspoon ground cinnamon
1/4 teaspoon ground ginger
1/8 teaspoon ground nutmeg
1 1/2 cups granola
1/4 cup sliced almonds
1/3 cup yogurt
3/4 cup flour
Directions
Preheat oven to 375 degrees F. Grease an 8x8-inch square baking dish with a tablespoon of butter.
Cut each apricot into 8 wedges and place in prepared baking dish.
Place cinnamon (no sugar), ginger and nutmeg in a medium bowl, stirring to combine. Add to apricots and toss to evenly coat. Set aside.
Chop the half stick of cold butter into small pieces and place in a medium-sized bowl.
Add the sliced almonds, granola, brown sugar, flour, and yogurt.
Toss with hands to combine.
Sprinkle over apricots. Cover with foil and bake for 40 minutes.
Remove foil and continue baking until filling is bubbly and topping is lightly browned, 15-20 minutes.
Remove from heat and let cool at least 20 minutes before serving.