Food Rush Episodes
What Makes Great Olive Oil?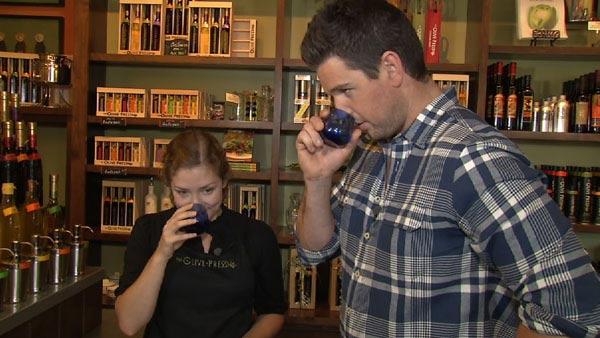 Ryan learns the secret to great olive oil.
Olive Oil Tasting Tips
from The Olive Press
Distinct Categories of Extra Virgin Olive Oil
Delicate (Sevillano, Mission): These late-harvest oils exhibit a buttery, sweet, sometimes nutty taste-perfect with poached and grilled fish, hot and cold vegetable soups, delicate sauces, steamed or sautéed vegetables, chicken and mild cheeses.
Some amazing ways to enjoy the Delicate:
1. Drizzled over poached salmon or sea bass adds just the right soft and milk fruitiness to these fish.
2. Steamed vegetables including broccoli, green beans and asparagus all shine with a boost of these delicate oils.
3. Equally good in hot winter pureed squash soups, summer gazpachos and late summer corn chowders.
4. Drizzled over slices of Ahi tuna on a bed of fresh greens adds depth and flavor to a spectacular dish.
Medium (Arbequina, Ascolano, Arbosana, Master Blend): This category offers a flavor profile with "olivey" or pronounced ripe and/or green fruit flavors including: grassy, herbaceous, nutty, and other fruits -- tropical, apple, and banana. These mid-harvest oils compliment grilled meats and vegetables, pasta, and bruschetta, sauces with garlic and cheeses.
Some amazing ways to enjoy the Medium:
1. Try on your favorite grilled chicken or beef recipe -- kabobs on the grill or with a favorite rub, this oil is sure to give meats a succulent and delicious flavor.
2. These special oils take roasted pork tenderloin stuffed with fresh figs and sage to another level!
3. Make farfalle pasta with pine nuts and sun dried tomatoes sing with these fruity and sumptuous oils.
Robust/Intense (Koroneiki, Italian Blend, Marquesa, Lunigiana): Predominately green fruit flavors with distinct bitterness and pungency. Sometimes described as spicy or peppery (perceid in the throat). This early-harvest flavor profile perfectly complements traditional, rustic dishes such as hearty winter soups and stews, bruschetta, pasta, and greens.
Some amazing ways to enjoy the Robust:
1. Root vegetables and Portobello mushrooms are perfectly complimented by these robust and earthy oils -- try roasting red onion with these spectacular oils.
2. These robust oils show their backbone and stand up well in spicy dishes like Pasta Puttanesca, which offers a wallop of flavor.
3. Try them in a winter slaw or hearty grating during the chilly winter months.
How to Taste Olive Oil:
Extra-virgin olive oil must be tasted to be fully understood and appreciated. Here are a few professional hints for tasting extra virgin olive oil on your own.
1. Pour approximately 1 ounce of oil into a glass, preferably tapered (similar to a wine glass). Cover the glass with one hand while you hold the bowl of the glass in the other hand. Ideally oil is best sampled at approximately 70 degrees F.
2. Swirl the oil to release its aromas. Uncover the glass and quickly smell the oil. Aroma is the key to the fruitiness of the oil.
3. Sip the oil while also taking in a bit of air. The slurping action emulsifies the oil with oxygen and spreads it throughout your mouth. Notice the oil's retro-nasal aromas and the different sensations throughout your mouth.
4. Swallow the oil. Notice if there is a peppery or stinging sensation in your throat, and how long the sensation lingers.
For more information on the Olive Press:
The Olive Press
24724 Hwy 121 (Arnold Dr.)
Sonoma, CA 95476
707-939-8900
800-965-4839
The Olive Press
at Oxbow Public Market
610 First Street
Napa, CA 94559
707-226-2579
https://www.theolivepress.com