Food Rush Episodes
Top Restaurants in Santa Monica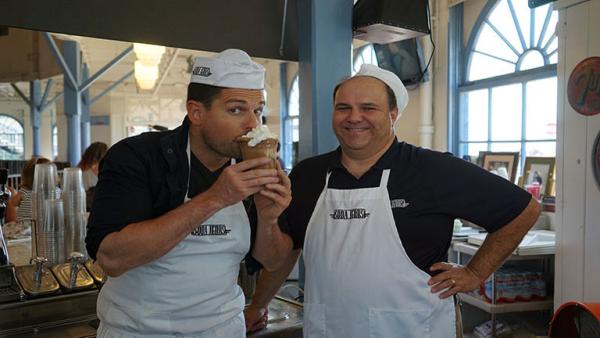 When it comes to good food Santa Monica, California has it all -- everything from fun beach treats to eclectic fine dining and more. With 340 days of sunshine a year, good eats are just one of the draws of this beachfront resort town in western Los Angeles County.
Ryan's first culinary stop in Santa Monica begins in a place where its food is as wild as its name. Right on the busy Santa Monica Boulevard is JiRaffe Restaurant and Bar -- an enduring and elegant local favorite that opened 18 years ago.
"The idea was to open a New York/San Francisco feeling restaurant in what I knew would become a thriving city. This rustic American French cuisine is based on local ingredients," said Chef Raphael Lunetta, owner.
Even though the restaurant serves fish, Raphael named it after his favorite childhood animal -- the giraffe.
The restaurant uses Santa Monica's farmers market to get all of its fresh ingredients.
"This Santa Monica farmers market is insane. We were one of the first restaurants that started using that market. It is by far one of the best farmers markets in this state," said Raphael.
Raphael takes Ryan back to the kitchen and prepares a special dish for him -- tuna tartare with fresh salsa and avocado. It is perfect for a warm summer day.
Before Ryan leaves he tries two more of JirRaffe's famous dishes -- duck prosciutto with wild white sage and gorgonzola and prime caramelized pork chop with wild rice, bacon and spiced-apple chutney.
Next, Ryan heads to spot that is fun and diverse. He cruises down Ocean Avenue and finds a taste of the islands at Cha Cha Chicken. It is a relaxed local hotspot with a cool Caribbean vibe.
"He started it as an approachable restaurant catering to the everyday family. You are still getting quality gourmet food but you aren't paying an arm and a leg for it," said Ricardo Prado, owner of Cha Cha Chicken.
Ricardo describes Caribbean food as the original soul food. And, he says Cha Cha Chicken is all about Cali Caribbean causal food.
"They were working with scrapes and they were had all these beautiful fruits and they were working with spices to try and pair with it. You put it all together and it is like a party in your mouth," said Ricardo.
The menu is mostly chicken -- no surprise -- but the kitchen also cranks out meat dishes, veggie options and seafood plates. Ricardo's family has developed special sauces that are off-the-charts good.
Ricardo makes Ryan their signature jerk shrimp. The homemade sauce is made with pineapple, habanera, mango and spices.
It is hard to find a better slice of southern California beach life than Santa Monica. Santa Monica seems to have a taste of it all. Right off of Pico Boulevard, you'll find the trendy Upper West with eclectic dishes and unique cocktails.
"We are like the Cheers of Santa Monica. You know where everyone knows your name," said Nick Shipp, executive chef. "Food wise it is a little exploratory and at the bar as well."
"We try to have the best wine and beer out there. And, make sure people have a good time," said Elad Benisti, co-owner.
Back in the kitchen, Ryan learns all the tricks Nick uses to make his best selling appetizer -- fried pork belly with chorizo hash and tomato syrup.
Then, Ryan heads to the city's biggest landmark -- the 100-year-old Santa Monica pier. Inside the iconic carousel building is Soda Jerks -- a 1920s style soda fountain shop which serves scoops and sundaes the old fashion way.
Ryan tries one of their famous drinks -- a chocolate soda. To make it they use one pump of chocolate syrup, a half of a scoop of vanilla ice cream and then slowly add the carbonated water. After they mix that together, they top it with a scoop of vanilla ice cream and whipped cream.
For more information: