Food Rush Episodes
Ryan Prepares Kid-Friendly Barbeque Meal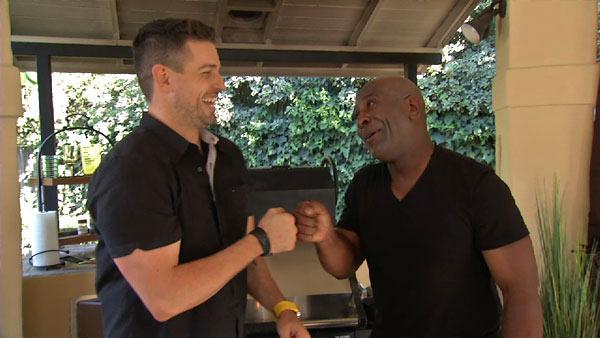 Chef Ryan Scott is showing his good friend Terrance Frazier how to prepare a feast for his five kids. He has the perfect kid-friendly summer barbeque menu, which includes Cherry Dr. Pepper BBQ ribs, bacon mac and cheese and apricot granola crisp.
Ryan packs up his truck with the food and heads to Terrance's house. To get to his house Ryan has to drive through California's Central Valley. The area is home to America's greatest garden yielding about a third of all the produce grown in the U.S.
Since Ryan still needs a key ingredient for his dessert he stops at Melkonian Brothers Farms to pluck fresh apricots. He plans to make a delicious cobbler with the sweet, juicy fruit.
The Central Valley is also full of dairy products so Ryan decides to make a homemade macaroni and cheese that is sure to please Terrance's five kids. He stops at Fiscalini Cheese Company to buy some fresh cheese for the dish.
Then, he is off to Terrance's house to prepare the meal. Ryan starts by grilling baby back pork ribs. He serves them with a homemade barbecue sauce with a twist -- he adds Cherry Dr. Pepper to it. It adds a hint of sweetness to the sauce.
Next, he prepares the mac and cheese dish, which he tops with breadcrumbs and bacon. It is a decadent pasta dish that the kids are sure to love!
For dessert, Ryan shows Terrance how to make a simple cobbler using apricots, granola and yogurt.
Melkonian Brothers Farms
2730 S DE Wolf Avenue
Sanger, CA 93657-9770
(559) 485-6191
Fiscalini Cheese Company
7231 Covert Road
Modesto CA 95358
fiscalinicheese.com