Food Rush Episodes
Ryan Competes in Top Chef Cook-off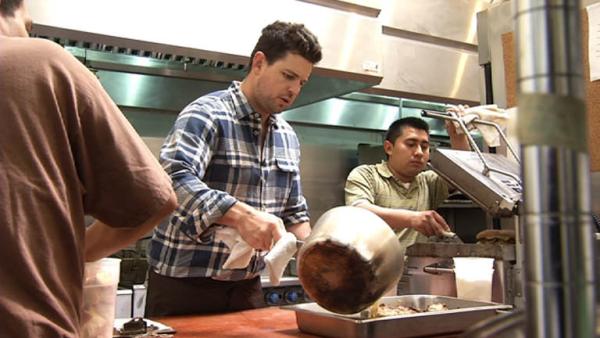 Ryan heads to the Heirloom Tomato Festival in Sonoma to compete in a cook-off against fellow Top Chef contestant Casey Thompson.
After Ryan juggles cooking for his restaurant and filling out a big order for his catering business, he heads to Sonoma County to participate in a chef's competition. He goes against his fellow Top Chef alum and fan favorite Casey Thompson.
Before he gets to the competition, Ryan stops by a nearby olive press where he gets inspiration to cook seasonal tomatoes with fresh olive oil.
Ryan meets up with celebrity chef Guy Fieri at the Heirloom Tomato Festival at the Kendall-Jackson Winery before the competition gets underway. And, Ryan makes him a batch of orange-olive oil shortbread cookies.
Ryan and Top Chef contestant Casey Thompson need to make three dishes in 30 minutes and incorporate tomatoes. The judges tell Ryan he needs to use two main proteins in his dish -- salmon and pork. On top of that he must use plenty of heirloom tomatoes in all three of his dishes.
Ryan prepared the following dishes for the cook-off:
Pickled Cherry Tomatoes
Gremolata with a Tomato Twist
Bagna Cauda
Babaganoush with Grilled Japanese Eggplant
For more information on the Heirloom Tomato Festival:
Kendall-Jackson Wine Center
5007 Fulton Road
Fulton, California 95439
707.571.7500
kj.com