Food Rush Episodes
Portland's Food Carts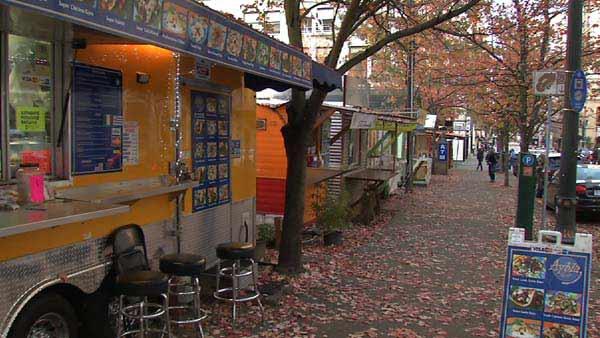 Ryan discovers the unique food carts of Portland and samples deep fried anchovies. Later he visits his former colleague Chef Aaron Barnett of St Jack Restaurant who shows him his twist on the classic Mussels dish.
Ryan wants to get inspiration for his menus at his two restaurants, so he travels to Portland to check out their unique food cart scene. Portland is famous for the farm to table movement where they use locally sourced food.
At the Portland food carts, Ryan gets a tour and samples some deep fried anchovies. From there, Ryan visits his friend and fellow chef Aaron Barnett of St. Jack Restaurant. Aaron and Ryan once worked together as sous chefs in San Francisco. Aaron shows Ryan his twist on the classic Mussels dish.
Chef Aaron Barnett's Tips When selecting the Perfect Mussels
1. Make sure mussels don't smell bad.

2. Make sure uncooked mussels are closed.

3. Knock unopened mussels on table to check for freshness.

4. When cooked, mussels should be slightly opened.
For Information on the Food Carts of Portland:
http://www.foodcartsportland.com/
For more information on Aaron Barnett's restaurant:
St. Jack Restaurant
2039 Southeast Clinton Street
Portland, OR 97202
(503) 360-1281
stjackpdx.com
RECIPES:
Mussels with Shallots, Garlic, Fennel and Vermouth