Food Rush Episodes
Pickling Tips from a Pickle Master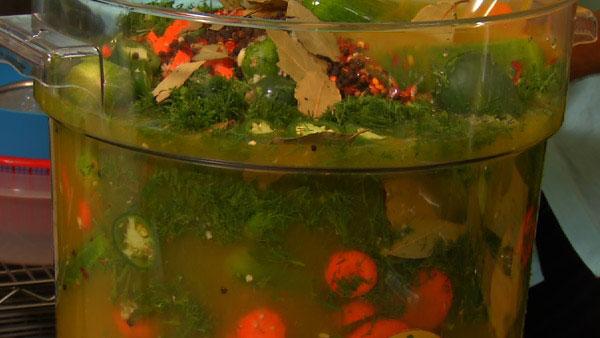 Ryan heads to Paulie's Pickling in San Francisco's Bernal Heights neighborhood to explore the place where he gets the pickles for his corn flake crusted fried chicken sandwich. While in the pickling kitchen, Ryan gets some pickling 101.
Pickling 101 Tips from Paulie's Pickling:
1. Be sure to use the freshest produce you can find, farmers markets are your best bet.
2. For cucumbers make sure they are hard and have bumps on them.
3. You can substitute kosher salt for pickling salt but increasing the amount of salt in a recipe by 1 1/2 times. 1 cup becomes 1 1/2 cups.
4. Be sure to remove the blossoms off the cukes they can soften your pickles.
5. Make sure all jars are sterilized before you pickle in them. Bacteria can ruin a whole batch and even make you sick.
For more information on Paulie's Pickling:
Paulie's Pickling
331 Cortland Avenue
San Francisco, CA 94110
pauliespickling.com