Food Rush Episodes
JiRaffe Restaurant in Santa Monica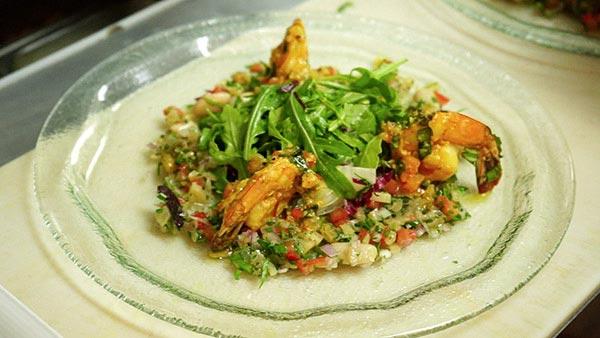 Ryan Scott's first culinary stop in Santa Monica begins in a place where its food is as wild as its name. Right on the busy Santa Monica Boulevard is JiRaffe Restaurant and Bar -- an enduring and elegant local favorite that opened 18 years ago.
"The idea was to open a New York/San Francisco feeling restaurant in what I knew would become a thriving city. This rustic American French cuisine is based on local ingredients," said Chef Raphael Lunetta, owner.
Even though the restaurant serves fish, Raphael named it after his favorite childhood animal -- the giraffe.
The restaurant uses Santa Monica's farmers market to get all of its fresh ingredients.
"This Santa Monica farmers market is insane. We were one of the first restaurants that started using that market. It is by far one of the best farmers markets in this state," said Raphael.
Raphael takes Ryan back to the kitchen and prepares a special dish for him -- tuna tartare with fresh salsa and avocado. It is perfect for a warm summer day.
Before Ryan leaves he tries two more of JirRaffe's famous dishes -- duck prosciutto with wild white sage and gorgonzola and prime caramelized pork chop with wild rice, bacon and spiced-apple chutney.
For more information on JiRaffe visit www.jirafferestaurant.com.