Food Rush Episodes
Gourmet Camping Recipes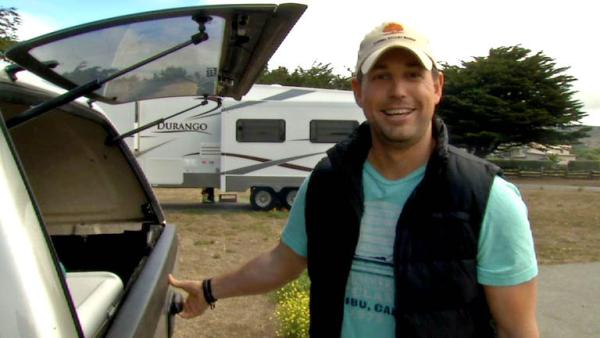 Chef Ryan Scott prepares a delicious meal for his friends at a beach campsite. Even though he isn't much of a camper, he puts together a few gourmet recipes for the trip.
Ryan is not much of an outdoorsman but his friends have challenged him to go camping for the weekend. So, he heads to Sunset -- the premiere magazine of the West Coast -- for tips on how to prepare a delicious meal without the luxuries of home.
Elaine Johnson, associate food editor at Sunset Magazine, shows Ryan how to cook cinnamon rolls in a Dutch oven over hot coals. It is a recipe that requires a little bit of planning since you want to make the dough before you get to your campsite. But, the end result is a warm and delicious breakfast treat.
Before Ryan leaves for his camping trip, he preps his food. He starts by marinating his steak in a coffee and jalapeno rub and then he cooks his baked potatoes in the microwave so he only needs to reheat them once he is at the campsite. He also gets his killer tater toppings ready -- bacon, scallions, cheese, sour cream and rosemary butter.
With all the goodies packed in ice and ready to go, Ryan heads to the beachfront campsite in Half Moon Bay, which is just south of San Francisco, for the weekend. Campers at this park enjoy four miles of beach.
Once at the campground with his friends, Joe Jacobsmeyer and Anthony Bradley, Ryan gets to work cooking his camp side meal over some hot coals. He starts by making his blue cheese biscuits and then he sautÚs his espresso and jalapeno steaks in a pan on a portable stovetop.
While the steaks cook, Ryan and his friend start making the dessert -- bananas foster!
All of Ryan's recipes were a hit with his friends! Get the recipes he prepared here: Dutch Oven Cinnamon Rolls, Jalapeno Garlic Espresso Steak, Grilled Bananas Foster, Honey Black Pepper Blue Cheese Biscuits and Loaded Rosemary 'Baked' Potatoes.
If you are planning on preparing a gourmet meal while camping, make sure you bring the right gear. Sunset Magazine has some recommendations:
For more gourmet camping recipes visit
sunset.com
.