Food Rush Episodes
Chef Ryan Scott Explores Mexican Food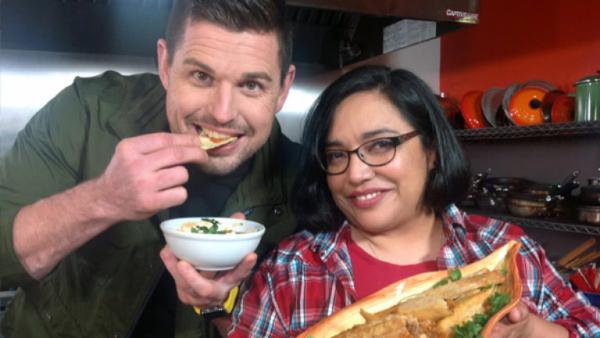 Chef Ryan Scott is on a mission to learn everything he can about authentic Mexican food. In San Francisco, there are so many different foods from so many different cultures. In order to learn about Mexican cuisine, Ryan heads to the Mission district to learn from some of his friends who are experts in Mexican food.
First, Ryan meets up with Chef Telmo Faria of the restaurant Tacolicious, and they head to the best little Mexican restaurant in the district, La Palma. Ryan tries his hand at making tortillas, learning from the experts at La Palma. It doesn't go so well.
"I tried," says Ryan. "I'm officially no bueno."
Chef Telmo shows Ryan about the great chiles and chile powders that La Palma carries. They pick up some supplies and head back to Tacolicious to make some great eats. Telmo teaches Ryan how to make a secret taco that's not even on the menu -- the clown taco.
"The taco shell is so good, so crunchy, so fresh," says Ryan. "The meat is like right in your face. So good."
After learning to make a great taco, Ryan heads back to his test kitchen with another friend, Tina "Tamale" Ramos, who teaches him to make the perfect tamale.
Just what is a tamale? A corn dough filled with a filling such as pork, along with sauce, and steamed inside a corn husk or banana leaf.
While the tamales steam, Ryan shows Tina his version of a Mexican chile sauce, based on what he learned from Telmo about Mexican seasonings. He makes his secret spice blend from chipotle peppers, cayenne, cumin, black pepper and turmeric. While Ryan says his spice mix is "muy caliente," Tina corrects him.
"Muy Picante. Caliente is hot," she says, waving her hands like a fan. "Picante is spicy."
Next, Ryan makes a Mexican twist on matzo ball soup -- Masa ball soup with ancho chiles and chicken.
"Masa mia, it's coming together," says Ryan.
The soup includes a chayote -- a Mexican squash -- but Ryan says you can substitute potato if you don't have chayote available.
"I feel like I've become an aficionado of Mexican cuisine," says Ryan. "I've got the tamale down. I've got the soup down. There's no other way to finish all this cooking than dessert."
Ryan puts a Mexican spin on a chocolate pot de creme by adding a bit of tequila and spices -- cayenne, cinnamon and espresso powder.
After the dessert cooks and cools, Ryan adds a little sea salt, which goes great with the tequila.
Finally, Tina and Ryan have a taste to see if Ryan passed the test of learning to cook Mexican food. First up is Tina's tamale.
"Holy guacamole," says Ryan. "The pork is delicious. The salsa is amazing. And your masa? Mmm."
Next, Tina tries Ryan's soup and gives it a thumbs up.
"I really like how you put the spice blend into the masa," says Tina. "That's really unusual. A little change of pace."
And dessert? Delicious. Tina loves the Mexican spices.
To finish their meal, they toast with a little tequila and congratulate themselves on a meal well cooked.
For more about the restaurants featured in this episode:
Tacolicious
741 Valencia St.
San Francisco, CA 94110
tacolicious.com
La Palma
2884 24th Street
San Francisco, CA 94110
lapalmasf.com
Tina "Tamale" Ramos - Tina Tamale Catering
tinatamale.com