Food Rush Episodes
Chef Martin Yan Prepares Asian-Inspired Dishes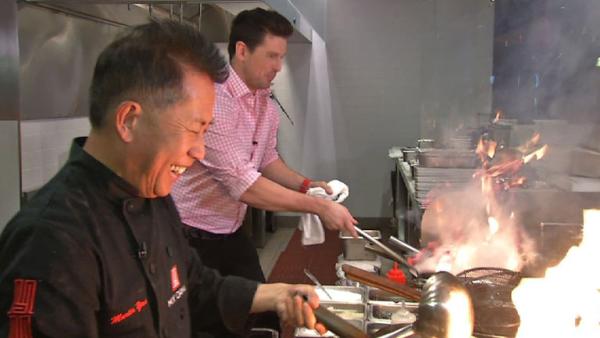 Chef Ryan Scott meets up with Chef Martin Yan, the legendary host of 'Yan Can Cook,' in San Francisco. They cook some unique Asian-inspired recipes, including Shrimp and Sugar Snap Peas; Garam Masala Chicken over Fettuccine; Char Siu Mini Tacos with Bok Choy Slaw.
Chef Martin Yan took Ryan on a tour of his new restaurant, M.Y. China, in downtown San Francisco where he is treated to a noodle dancing performance, a noodle pulling lesson, and a
shrimp and sugar snap peas stir fry
cooking lesson.
After touring and cooking at Martin Yan's new San Francisco restaurant, Ryan and Martin headed out to San Francisco's Chinatown. There, Martin showed Ryan where he finds unique foods, like roasted duck and chicken feet, and where he shops for fresh food, like fish, lobster, and produce.
Then, they headed to Martin's house where he made Ryan a dish that combined the flavors of Italy and India -- garam masala chicken over fettuccine. And, Ryan made his spin on a unique Asian recipe -- char siu mini tacos with bok choy slaw.
Some unique places that Martin Yan recommends you visit while in San Francisco Chinatown:
Great China Herbs
857 Washington Street
San Francisco, CA 94108
415) 982-2195
Gourmet Delight
1045 Stockton Street
San Francisco, CA 94108
(415) 392-3288
Chung Chu City
1230 Stockton Street
San Francisco, CA 94108
Vital Tea Leaf
1044 Grant Avenue
San Francisco, CA 94108
(415) 544-9838
vitaltealeaf.net
M.Y. China
Westfield San Francisco Centre
845 Market St, 4th Fl
San Francisco, CA 94103
(415) 580-3001
mychinasf.com