Food Rush Episodes
Breaking Down the Best Cuts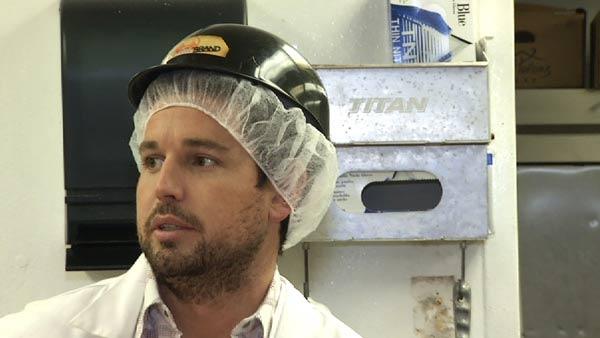 Come with Ryan on the personal tour of the Golden Gate Meat Company, San Francisco's oldest meat packing factory. The resident meat expert Justin shares some tips for selecting the best cuts.
After eating two amazing sandwiches from The Yellow Submarine, Ryan's ready to find out how meat is prepared over at the Golden Gate Meat Company. The manager and owner Justin gives us an in-depth tour of their facilities. After touring the Golden Gate Meat Company, Ryan's in store for a very special showcase. Justin lays out an entire hind quarter of beef and gives Ryan a breakdown of all the juiciest cuts. Bet your butcher never explained it like this! Unless you're already a meat expert like Justin, you won't want to miss this!
Justin's Tips on Meat:
1. Meat has a longer shelf life if it's vacuumed and sealed correctly. Air is what allows bacteria to grow, so keeping your meat sealed can prolong the shelf life by a good 2-3 weeks.
2. Fat provides the juicy flavor you want in your meat. The perfect ratio of lean to fat content is 80:20.
3. Always cut against the grain. If you look at a raw cut of meat, you can usually see that the lines are going in one direction. If you cut your meat along the lines, you're releasing all the juices. Cut against them, and you're locking the juices in.
Most of us aren't professional butchers, but here are some quick tips that can get you more in-the-know with meat:
Tips on Buying Meat:
1. Always buy your meat as close to the day that you're going to cook.
2. You can request special preparations. Many people will buy packaged meat to save time on preparations that they're not sure how to execute, but you can always ask your local grocery store butchers to do the work for you! They're happy to debone, trim the fat, or slice up your meats in whatever way is most convenient. If you're not sure, just ask.
3. Contrary to the myth, discounted meat is not about to go bad. Discounted meat is all about the discount that the store gets from a vender, not because it's close to its expiration date.
4. Don't be afraid of cooking with the bone! What a lot of people don't know is that bones are excellent heat conductors. They radiate heat throughout the meat so that it cooks faster.
Golden Gate Meat Company
Ferry Building Marketplace Shop #13
San Francisco, CA 94111
(415) 983-7800
http://www.goldengatemeatcompany.com/