Food Rush Episodes
Baking Sourdough in a Rustic Oven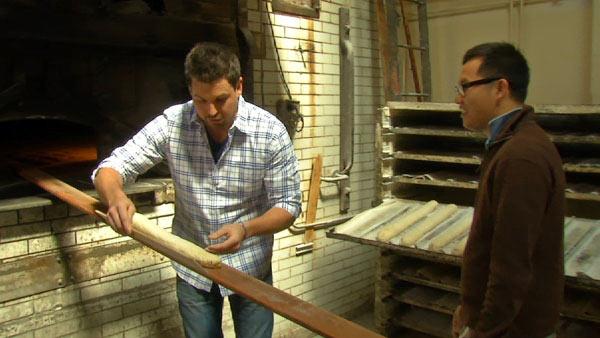 Ever wondered where the best bread in the world comes from? Go on a trip with Ryan to the famous Italian French Baking Co. in San Francisco and find out how their 100-year-old oven adds character to every loaf.
Ryan heads to Italian French Baking Co. in the North Beach area of San Francisco to pick out a perfect French baguette to surprise his friend and hair stylist Doyle. With an exclusive oven tutorial from one of the experts, Ryan discovers how their one-hundred-year-old oven bakes that famous San Francisco sourdough bread.
Tips on Baking Sourdough:
1. When uncooked, dock the raw bread along the top to make sure it gets a nice golden crust.
2. When picking out sourdough bread, the crust should be hard. Unlike other types of bread, the harder, the better. Don't be afraid to squeeze the bread crust to listen for that magic crackle Ryan loves.
3. When cutting sourdough, save the ends! You can use them later for something like croutons.
For more info on the Italian French Baking Co. read their reviews on yelp at yelp.com.
Italian French Baking Co.
1501 Grant Ave
(between Nobles Aly and Union St)
San Francisco, CA 94133
(415) 421-3796