Food Rush
Ryan Scott
Host of Food Rush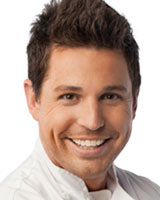 Chef Ryan Scott is the host of Food Rush on the Live Well Network. He takes us on an entertaining ride through life as he juggles food, food and more food on the half-hour series.
Ryan Scott, 32, zeroed in on his desire to be a chef at the early age of nine when the "toys" at the top of his Christmas list included kitchen utensils, a wok and food dehydrator. Growing up in Modesto, California, he developed a passion for the culinary arts and, at the same time, shaped his well-honed competitive side as a star player on the Los Banos High School varsity basketball team. Seeking to be the best at any early age, he entered the prestigious California Culinary Academy (CCA) in San Francisco in 1999.
Ryan's professional career began with a one-year internship at the acclaimed Bistro Roxy in Reno, Nevada. In 2001 the enchantment of Hawaii and its array of opportunity compelled him to move out of the landlocked Central Valley to the island of Maui, where he leaped head-first into Polynesian cuisine and took full advantage of his surroundings, eventually staged under two of Hawaii's finest chefs, Peter Merriman and Alan Wong.
A 2001 graduate of the California Culinary Academy, Scott has cooked and learned in the kitchens of many of the country's best chefs. He was a line cook at Restaurant Gary Danko, and staged with Daniel Boulud at Daniel in New York, Charlie Trotter at Trotter's in Chicago, and Suzanne Goin at Luques and A.O.C. in Los Angeles. In late 2005, he joined the Myth restaurant group and launched its successor, Myth Café two months later. Myth Café became an ultimate hot spot for foodies and the lunch crowd in San Francisco and was named one of the top dining destinations for California cuisine by San Francisco Magazine, within the its first three months of opening. In late 2007 Scott was cast as one of 16 contestants on Bravo television's national, toprated reality cooking show, "Top Chef." Shot in Chicago and judged by some of the country's most famous chefs, the show was an exhilarating, highly educational and singular experience for Scott and his fellow contestants.
Ryan joined Mission Beach Café in June 2008. During his stint at Mission Beach Café, it was recognized as a top brunch destination by 7x7 Magazine. In addition, his efforts at Mission Beach Café were noticed by USA Today and Zagat.
Currently Ryan is the proprietor of Ryan Scott 2 Go LLC which include: Ryan Scott 2 Go Catering, 3-Sum Eats, voted San Francisco's #1 food truck in 2012, and Market & Rye, which has two locations in San Francisco.
Ryan also works extensively with many community organizations, donating time and cuisine, such as Meals On Wheels of San Francisco, Inc., and Make-A-Wish Foundation. The American Heart Association, the Guardsman Association, in addition to his own charity, Harvest from the Heart, an annual Thanksgiving Bag Lunch Giveaway are just a few other notable contributions. In addition to Ryan's many accomplishments, he is much sought after for television appearances, and has performed many demos on the Today Show, Fox and Friends, Millionaire Matchmaker, and San Francisco's "View from the Bay". Ryan has also been the spokesperson for Morningstar Farms, and Healthy Choice, and currently the face of Bon Appetit's new line of cookware, appliances and kitchen tools on HSN.