Recipes
DIY Dog Treat: Carrot Bones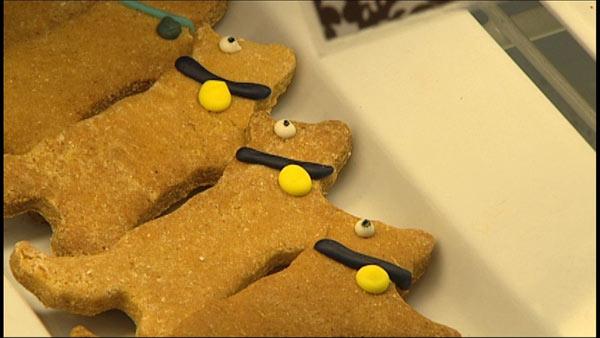 1 medium ripe banana
1 cup shredded carrots (see note below)
1/4 cup applesauce, unsweetened
1/8 cup water (you may need to add an additional 1/8 cup water)
1 1/2 cups whole wheat flour
1 cup rolled oats
Directions
1. Preheat oven to 350 degrees F.
2. Mash the ripe banana in a small bowl.
3. Grate the carrots, and mix with the banana.
4. Then pour in the applesauce and water.
5. In a medium bowl, whisk together the flour and oats.
6. Make a well in the center of the dry ingredients and pour in the carrot mixture.
7. Stir until thoroughly combined.
8. Knead the dough in the bowl with your hands.
9. Fold out onto a floured surface and continue to knead until a dough has formed.
10. Roll out to 1/2 inch thickness.
11. Cut out into 3 inch pieces (I used a carrot shaped cookie cutter).
12. Lightly spray a baking sheet with non-stick spray.
13. Place the cut-outs on the baking sheet and bake for 25 minutes.
14. Let them cool completely on a wire rack.
Storing - These treats will be fresh in the refrigerator for 3 weeks. Keep them in the freezer for up to 6 months.
Yield - Using a 3 inch cookie cutter, you'll get 24 biscuits.