Recipes
Chicken Thighs and Rice with Spicy Avocado sauce Recipe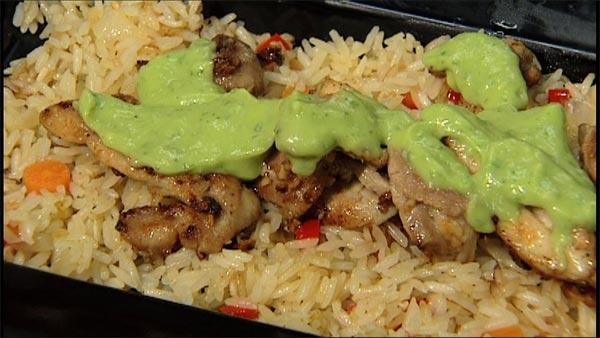 Provided by: H-E-B chef Anna T. Ferrando
6-8 pieces of boneless chicken thighs
2 tablespoons minced garlic
pinch salt
2 tbsp. olive oil
1 cup dry rice
2 cups chicken broth
1/2 cup diced onion
1/2 bell pepper
1 cup of baby carrots
1/4 cup chopped jalapeno
1/4 cup chopped cilantro
2-3 tablespoons of water
Directions
First, coat the chicken in about 1 tablespoon of garlic and salt.
Put the oil in the skillet and set on a medium high heat. and cook for about 5 minutes on both sides. Remove chicken from the pan.
Add vegetables into the pan and sauté until the onions appear to be translucent.
Add in about a tablespoon of minced garlic.
Add dry rice into the pan and coat the rice with oil.
When the rice turns bright white, add the chicken broth.
Cover and allow to simmer for 10-15 minutes or until the rice is cooked.
To make the spicy avocado sauce, chop up avocado and add in jalapeno, cilantro and enough water to help mix it all together. Top chicken with sauce.