Deals Episodes
Upcycled Fashion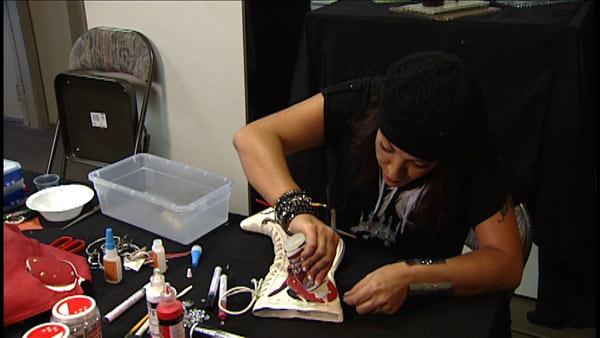 It's all about the arts and crafts, but not the kind you did as a kid, this is about taking those everyday items you may already have and kicking them up a notch!
We stopped by the Museum of Cultural Arts to get some inspiration from the Queens of Creativity!
"We're a group of women that we come together and we try to empower other women through our creativity," said Sam Turner.
"Art is a passion, if you do something with your heart and it's connected with your soul, it's going to come naturally so I always tell people to dare to do what you feel. Try it, don't be scared to do it and that's art," said Elisabet Gonzalez Barranco.
From shoes to handbags, even watches, the Queens show us how to make these old items new again.
"It's cheaper to re-create an old pair of shoes and revamp it, then going out and spending $70-$200 on a pair of new shoes," Sam said.
She says simply applying broaches or pins can quickly transform your old pumps into a high-fashion statement!
"The next item that we're going to do is a watch," Sam said. "Only thing we need for this project is an old photograph and scissors and that's it -- no expense, no cost."
Using a broken watch, Sam pops off the back and removes the mechanical parts.
"The metal plate can be your template," she said. "We're going to place it over the picture - you're going to take a pen and we're just going to trace it and that will be your cameo. You have a wearable piece of art and it shows your loved ones."
For the next project, Sam grabs some broken jewelry, an old clutch and some scrap flowers.
"The only expense that we need is an all purpose glue," she said.
She cuts the beads off the necklace and glues the flowers to the front of the purse. Sam suggests you let it dry for at least 24 hours.
Using some glue and tissue paper, Amanda Flores transforms this old cigar box into a beautiful work of art that could hold anything from your jewelry to mail!
"We're going to put layers of tissue paper throughout the entire top of the box," she said. "What I like the most about this is that you don't necessarily have to work too hard at it -- it's just creating whatever comes to your heart or comes to your mind," she said.
She adds a few rhinestones and an old broach in the middle to complete the project.
"You can find leftover tissue paper from all the gifts that you've been giving or you're a collector and you've been saving gift bags and so forth - you can chop all that up," said Amanda Flores. "You're utilizing the stuff that just sort of lays around, so in total for this project it could be $5 at the most."
Instead of throwing her old boots away, Elisabet decided to turn them into wearable art! This project is for someone who already has some artistic talent! She starts off by drawing a design using deco-pens.
"I have an old bag from Charming Charlie that I'm not using anymore so I can cut the leather and actually add it onto the boot," she said.
Using fabric glue, she dresses it up with rhinestones, glitter, even a broken necklace.
"You can see it as an art piece or you can wear it," she said.
"Just don't be afraid of being creative -- tapping into something you see through a magazine, online that you can't purchase - just think outside the box," said Sam.
To learn more about the Museum of Cultural Arts visit http://mocah.org.
Special thanks to Charming Charlie for donating jewelry and bags for these projects.