Deals Episodes
Toy Rental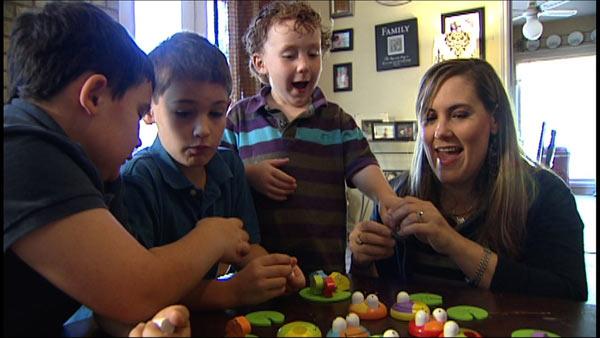 It can get expensive to buy fun and interesting toys for your growing child. But now there is a new cost-saving option for parents -- toy rental.
"I like toys," Ty Davis, age 3.
"You always get new toys and you never get tired of it and you can get new ones," said Trace Davis, age 7.
Trace Davis loves playing with his four brothers and sisters. His mom loves saving money.
"I really do think if I added up from when my oldest son was a toddler, up until when my fifth child is a toddler, we have saved thousands of dollars," said mom Rachelle Davis, "From puzzles to remote control cars to remote control games, really every time it's been a new kind of like for them."
Rachelle Davis saves money by renting toys. There are several toy rental services out there. Rachelle uses Toygaroo.
"We've been able to continually have toys come in without me having to buy these toys every time. As opposed to paying $40 a pop for one really cool toy that they might be interested in. For a month, I've been able to have eight toys, rotating constantly for that same price. The amount of money we've been able to save with Toygaroo is incredible," said Davis.
"Generally people call it the Netflix of toys," said Nikki Pope, with Toygaroo. "The idea of the company is rather than buying toys that kids are going to get tired of two weeks later and then you are stuck with this toy and its taking up space, they can rent the toy. When the kids get bored with it they can send it back and get some more."
At Toygaroo, the plans start at $24 for a box of four toys.
"And then once they sign up we call it our toy store and they start shopping. We have more than 500 toys on our site. They add the toys that they want to receive to their toy pouch. They can add as many as they want," said Pope.
You keep the toys for one or two months, and when you send them back, you get another box of toys. Shipping is free both ways.
"So when we send out a box of toys -- they are getting $130 of toys that they only paid maybe $24 for. So it's a great way to save money. You don't intentionally waste money. You think your child is going to love this toy but maybe that's not what they are into and you get home and you are like, 'Ugh! I just bought this $40 toy and they are not going to play with this!'" said Pope.
"You ship it and it comes back and you open it up and you get new toys that you have never played with, ever... ever... and it's so fun," said Trace Davis.
"As soon as you play with one toy you can just put it back in the box and you can get new ones," said nine-year-old Taylor Davis, "You are thinking what is in it? Oh, no is it going to be something super cool or not so cool? Like that."
The toys are cool and clean.
"Sanitization is our number one priority. We call it our no yuck factor promise. Every toy that comes into our system goes through a three-step sanitization process," said Pope.
And you are probably thinking, what if something happens to the toy?
"We understand pieces get lost, kids are kids. What we do with our members, we give them 60 days to find the piece. And send it back. If they don't find the piece, it's just a really nominal fee -- anywhere from 2 to 5 dollars to cover the missing pieces," said Pope, "We've only had two broken toys in our history and they came from the same household! So I think their kids were just having a lot of fun! We've really tried to pick high-quality durable toys."
If you lose or break the toy, or your kids love it so much they want to keep it, Toygaroo sells them at a discounted rate, depending on how many times it has been rented out. For Rachelle, renting toys is more than just a money saver.
"Developmentally we can cater it to where they are at. It really is a toy customized for that particular child at this time, which is something I couldn't afford to do if we didn't have Toygaroo because I couldn't afford to keep them developmentally stimulated every week with a new toy," said Davis, "Toygaroo is such a great economic way to keep up with the times and to keep your children interested and play without having to break the bank."
"The first thing I tell people is just give it a try," said Pope, "Have an open mind. It's a totally new concept for most people and see how it works for your family."
"You always get new toys and you never get tired of it and you can get new ones," said Trace Davis.
"You'll never get bored," said Taylor Davis.
For more information:
toygaroo.com
babyplays.com
mybusybucket.com
tuboftoys.com