Deals Episodes
Stylish Storage Solutions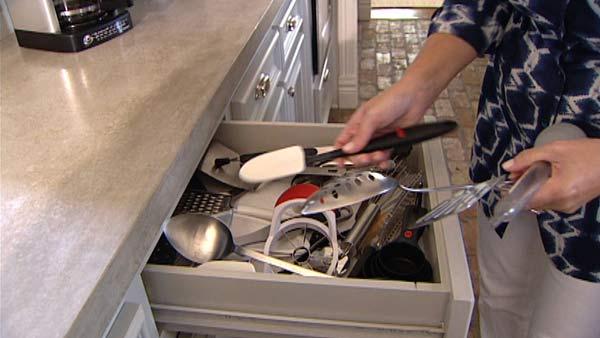 Looking to de-clutter your home? No need for expensive storage containers. Professional organizer, Julie Hibbs, gives us stylish storage solutions for corralling kitchen gadgets, earrings, dog toys and everything else that seems to pile up.
RIBBON HOLDER:
Use a paper towel holder to store ribbon! If cardboard on spool prevents it from fitting, just cut it to make it fit. Fun to look at and keeps all ribbon together and easy to cut.
CONTROL KITCHEN UTENSIL CLUTTER
Instead of searching in cluttered drawers for utensils, use a pretty vase to keep on the counter. Fill with utensils you use the most. It's easy to see and cheaper than buying a utensil holder. Chances are you have pretty vases that aren't being used, or you can find them at thrift stores and garage sales.
CONTAIN THE SMALL THINGS
Use a candy jar or other clear container to store thread or nail polish. You'll be able to see the colors and it keeps everything together in one spot. No need to buy a special holder!
SPICE RACKS ALTERNATIVE USE
Spice racks tend to take up valuable real estate on the kitchen counter. Clean out the spice holders and use to store hair accessories instead. It will make getting ready in the morning easier.
ON THE BUTTON EARRING RESOLUTION
Keep your earring studs together by using a button. Most of us have a collection of buttons in our sewing kit. Use the bigger buttons and use two of the holes to keep earring mates together. Also gives your jewelry box a bit of personality!
WHAT TO DO WITH OLD BASKETS
You might have a collection of baskets, or maybe you received a gift basket from someone. Use the basket to hold dog toys or kids toys. Don't waste your money buying a special bin. Use what you already have and keep things together!
USES FOR PRETTY JARS & CONTAINERS
If you get a pretty candle and you're having a hard time throwing away the box it came it, here's an idea& Use it to store old printer cartridges or even batteries. When it's full, take them to get recycled!
Julie Hibbs, CPO
Squared Away
www.squaredaway.com
Get Social with Deals:
Like Deals on Facebook: facebook.com/DealsTV
Follow Deals on Twitter: twitter.com/Deals_TV
Pin Deals on Pinterest: pinterest.com/DealsTV/
Due to the pre-recorded nature of this program, some prices may not be current. Please check your local retailer.