Deals Episodes
Spray Painting Project Ideas and Rules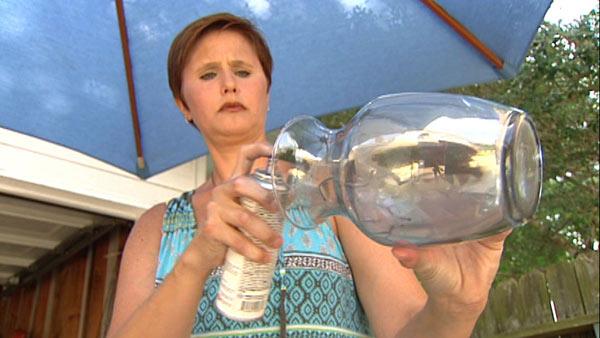 Spray paint is not what it used to be. At the local home improvement store we found an entire section with dozens and dozens of spray paint options. It's an affordable way to give so many of your things a brand new look.
"It's cheap and it's economical, " said Amy Chandler, head of the art department at St. Francis School. "You can do virtually anything with spray paint. You don't have to go buy a gallon of paint from one of the hardware stores to recreate something neat, you can just spray paint it as quick as possible."
Chandler says when using spray paint, there are a few rules.
"When you are spray painting you want to make sure you are in a well ventilated area. I don't recommend doing it inside your home," said Amy, "You want to be in the garage, patio, somewhere that there's plenty of breeze. Go slow, you want a quick fix, you want to take time. You want to avoid the drips, the glumps. You want to make sure that you don't get it too close and one area has a close concentration of the paint."
Projects we did with spray paint:
Colored Bottomed Heels - We took an old pair of black heals and spray painted the bottoms blue. Make sure you tape around the edges of the shoes and put paper over any part you don't want spray painted. We found a few wedding blogs that had this as an option for bridesmaids. Cute!

Baskets - We gave an old, dingy, out-of-date basket a brand new look by adding pink spray paint!

Cake Plate - Amy took a glass plate and a glass candle holder and glued them together. After drying, she sprayed it silver! It really looks like a silver cake plate! We made another one using a martini glass and glass plate. We spray painted this one green. For both cake plates we spent about $4! Amy says spray paint is not food safe, so always make sure to put a liner on the plate before using it.

Old Vase - Amy put "looking glass paint" on the inside of an old vase. First, paint five coats. Now, use a mixture of 50/50 water and vinegar and spray on the inside of the vase. Get a napkin, dampen it and rub parts of the inside out. This will give you a mercury glass look.

Glass bowl - Amy found a decorative glass bowl from the dollar store and spray painted the outside of the bowl. The blue color helped the details on the bowl stand out -- giving it an expensive look!

Dried beans - You can also spray paint dried beans different colors and put in vases.
For a list of projects you can do with spray paint check out:
krylon.com
dishfunctionaldesigns.blogspot.mx
Get Social with Deals:
Like Deals on Facebook: facebook.com/DealsTV
Follow Deals on Twitter: twitter.com/Deals_TV
Pin Deals on Pinterest: pinterest.com/DealsTV/
Due to the pre-recorded nature of this program, some prices may not be current. Please check your local retailer.