Deals Episodes
Savings You Put in the Garbage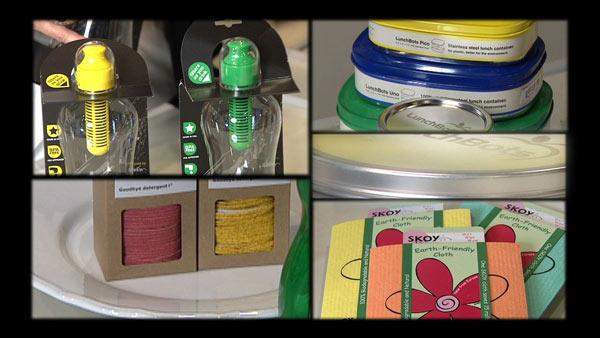 You may not think about it now, but a lot of the items you buy end up getting tossed in the trash. It's like literally throwing your money away.
From paper towels to water bottles -- we spend hundreds of dollars a year on these things, but there are alternatives.
Sherry Eichberger owns "One Green Street," a healthy organic lifestyle store. She says the number one money waster for families -- plastic water bottles.
"One of my favorite new products is the bobble," says Sherry. "What the bobble does is it filters while you drink, it actually has a filter system in it. You can get your water from the zoo from the pool, the ballpark, you are on a walk from the grocery store or the mall and you don't have to worry about the quality of the water."
One Bobble equals 300 water bottles. After that, you can buy a new filter and use it again! Bobbles range from $8.95 to $12.95.
Another item we spend a lot of money on -- paper towels. One option to help kick the paper towel habit : the Skoy Cloth.
"One skoy cloth is equal to 13 rolls of paper towels and they completely biodegrade at the end of their life," says Sherry. "We have almost a cult like following of the skoy cloth, because they are great."
"When you get them wet, they don't tear, they fit in your hand, anything you would use a paper towel for you can use a skoy cloth for," adds Sherry.
So, each SKOY cloth is $2.25 and one is equal to 13 rolls of paper towels. At $1.25 a pop, that's $16.25 worth of paper towels. Your savings in the end: $14 a month! That's cash that really adds up!!
And we all probably use ziplock baggies.
"One of the alternatives I like to share with my customers the stainless steel lunch bots," says Sherry. "They are very popular. They come in several sizes. They actually have some that are divided in two so you put half a sandwich for your child, maybe a fruit on the other side."
Lunch bots start at $12. A box of ziplock bags are about $2.50. If you use 3 boxes of ziplocks a month -- that's $7.50. You'll break even in less than two months, and you can keep reusing the lunch bots for years to come!
Another big money waster in the home is dish detergent. One alternative that can save you money is a product called "Goodbye Detergent." When you use the scrubbers on your dishes, you don't need detergent.
"These are made out of peach pits and these here are made out of corn cobs," says Sherry. "They call it spaghetti scrubbers because they look like spaghetti. This one is made out of corn cob, so it's nice and gritty."
"Goodbye detergent" scrubbers are $4.50 each.
From switching out water bottles to ditching paper towels, Sherry says that's proof "going green" doesn't have to cost you a lot of green.
"It's almost become a myth now that living an organic lifestyle or going green is a lot more expensive," says Sherry. "So people turn away from it because they feel like they can't afford it -- and that's just simply not true."
For more information on the items we mentioned check out http://www.onegreenstreet.com.