Deals Episodes
Paint a Rug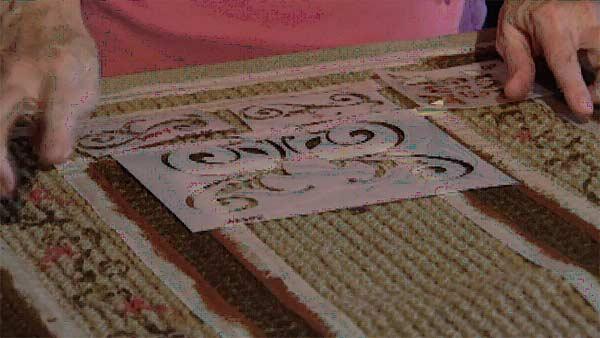 Are you looking to spruce up your living room? Try painting a rug for a one-of-a-kind piece of artwork for the floor.
Supply List
"Dark Natural" Woolen Jute rug 2 ft. x 3 ft. 5 in. size from HomeDecorators.com (or a larger size if desired).
Plaid Enterprises.com stencils: corner is from 4 x 12 Value Pack Mediterranean # 17429 and Stencil
Scroll is 8.5 " x 9.5" long #30594 (I cut the bottom scroll off making it 2-1/2 " wide")
Plaid Enterprises.com dauber set
Paint is 1 quart size each of Duration Formula by Sherwin-Williams in "Reddish" and "Plantation Brown" in latex semi gloss all paint (not enamel)
1-inch wide masking tape
Ruler
Bristle paint brush
Spray adhesive (such as Easy Tack by Krylon)
How to instructions:
Pad and protect work surface with newspaper.
Tape off border next to rug border with masking tape allowing 1" between rows of tape.
Cut off Stencil Scroll, allowing 2-1/2 inches for width of stencil.
Next to stencil, tape off another two rows of masking tape, allowing another 1" between rows of tape.
With pen, mark stencil lengths at ends and along long sides.
Leigh Diamond with Divinity Interiors.net and I used 2 scroll stencils at both ends (Plus 4 corner stencils) and 6 scrolls along the sides.
We flipped the scroll stencil designs to balance the pattern.
Use ruler to double check the design/spacing and burnish the masking tape down firmly.
Outdoors, spray back of stencils with re-positionable spray adhesive and place in between tape lines along marked lines.
Using Duration paint and two of smallest daubers, dip tip of dauber into each paint color, dabbing on newspaper to remove any excess paint.
Dab paint through holes in stencils. Repeat with both colors.
Using brush, paint borders by dabbing straight down.
Once entire rug is painted, carefully remove rows of masking tape.

For more on Joetta visit her website at shelterstyle.com.
SPECIAL THANKS TO:
Home Decorators Collection for donating the rug homedecorators.com
Sherwin Williams for the donation of the paint: sherwin-williams.com
plaidenterprises.com for donating the stencils and daubers
Lisa Stallones - artist who painted Joetta's rug www.lisastallones.com
Due to the pre-recorded nature of this program, some prices may not be current. Please check your local retailer.