Deals Episodes
Organize Your Home to Save Money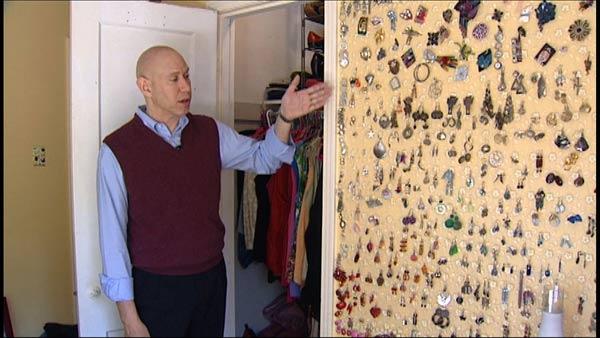 An organizational expert says that knowing where to find and store everything in your home can save you money. He shares a few tips to help you get organized in your kitchen, closet, and entryway.
If your savings are going down the gutter, start by ditching your clutter.
Unstuff Your Life! author Andrew Mellen says whether you have a place for everything absolutely correlates with your spending habits.
"By knowing what you own and what you are using, you will never buy duplicates again," Andrew says. With thorough organization, your home will also look better and help you save time (no more missing keys!)
Here are some of Andrew's recommendations for arranging your space to increase savings:
Kitchen
"The kitchen is where the most waste happens and where [there are] the most opportunites to save money," Andrew say.
In the refrigerator, group like items together (such as sections for drinks, produce, prepared foods, condiments, and more).
Write out your grocery list becomes much easier when you can clearly see what you already have.
To prevent impulse buying, plan your meals in advance.
Put your groceries away in their designated pantry and refrigerator spots to cut down on cooking time.
Closet
If your clothes, shoes and accessories are in order, you'll never scramble to get ready in the morning. You say, "I have nothing to wear!" nor will you purchase a piece you already previously bought.
Store like with like (short sleeves, long sleeves, sweaters), color coordinate clothing, and place the items in a logical, accessible way.
Donate anything ill-fitting, out of style, or that you don't wear. Andrew recently read that the average woman owns 17 pairs of shoes, buy only wears three of them.
There's no need to buy a professional closet organizing system. Truthfully, you don't need to spend a dime. Use the hangers you have.
Put a decorative piece of fabric (like lace) on the wall. Hang your up your earrings in pairs, sorted by color and material.
Get creative! Repurpose a coat rack to hold your purses and scarves.
Entryway
Keep an errand basket near your front or back door. Throughout the day, fill it with mail to posted, library books to return, and dry cleaning to drop off.
Before you leave your house, grab your basket and take it with you. Streamline your trips by doing the errands that are located near each other. This will save you time and gas money.
Wanting to get organized is a great first step. But take your time.
"You're not going to fix it overnight," Andrew says. "I always encourage people to begin at the place that is making you the craziest," Andrew says. That may be your closet, kitchen, bathroom, bedroom, or home office.
For more information, visit Andrew's website at andrewmellen.com.