Deals Episodes
Start a Meal Sharing Group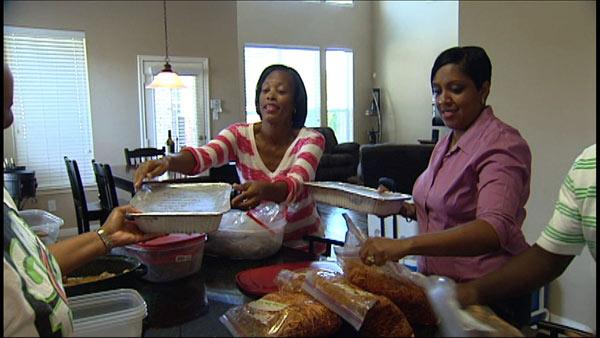 If just thinking about what to make for dinner tonight makes you stressed -- here's an idea that's not only healthy, but can save you a lot of time and you can share it with your friends.
It's called meal sharing, something Brenda Thompson has been doing for years now - saving this busy mom not only time, but quite a bit of money.
"My average grocery bill, and we have a family of four, is between $50-$65 a week," Thompson said.
Here's how she does it: At the beginning of the week she prepares a main dish and multiplies the one recipe by 8 - since that's the number of people in her meal sharing group.
While that may sound expensive Thompson says her meals average $5 to $10. "And that's serving 4-6 people," she said. "I mean, you can't even go through a drive through for four people for less than $10."
Of course we had to see for ourselves. We gathered a group of five people and had them try it out for a month.
"I think my motivation was more on my family than me," said Marcus Davis. "I'm the actual cook and now I work from 1 p.m. to 9 pm. My wife gets off work and has to deal with a two-year-old and try to cook, so I typically cook before I go to work and this will make it much easier."
Participant Darlene Williams says she's excited to try it out. "I would have never thought of food sharing -- it's a great concept, sounds good."
Thompson explains to the group to first set some guidelines, like what foods people do not like to eat or has allergies to. That could make the difference in who decides to continue on and who opts out. She also recommends you choose families with similar sizes to your own.
Then, decide on a meal!
"A big misconception for freezer groups is that it's all casseroles and it's not, " Thompson explains. "I like to do a lot of marinated meats and when you pull it out to thaw it marinates while it's thawing."
We catch up with our group a week later. With coolers in hand, they are ready for the big exchange.
Williams tells the group she made Mexican Lasagna. "It has ground turkey, black beans, spinach tortillas, cheese and spices."
"I prepared pot roast with vegetables," said Sharon Gilbert.
Rodney Baty said he made baked chicken. "I prepared an Indian dish," Davis said. "I stepped out on the wild side - I made tandori chicken."
Sharon Baker made turkey spaghetti.
Each person leaves with five main dishes, unique meals this group says will take them out of their routine dinner ruts!
"All the meals that I received minus the spaghetti - I wouldn't cook really," Davis said. "I never even heard of Mexican lasagna before as far as trying to prepare it at home." "The baked chicken was "baked chicken," but it was different, it wasn't your run to the store or restaurant and pick up some baked chicken - it was different, it was great!"
Fast forward 30 days.
"I'm ready for round two, it's been a couple of months let's make this easy again," Davis said.
Davis admits at first preparing his meal was a bit stressful. "I was thinking 'dang this is a lot of chicken - I hope I have enough for everybody,' " he said. "But in retrospect that was the easiest - that was the easiest time that I had cooking because I only had to cook one part of the meal and then after that - let them put the sides in."
"When I prepared my meal, it took me two hours from start to finish - that included cleaning up the kitchen," Williams said.
And since the group was only buying sides for their meals - many say they were able to cut their grocery bills in half!
"To prepare the meal for the five families I spent $58 and so essentially I got five meals for $58," Williams said. "For my family that was probably a savings of about $150."
And many say they even have leftovers - so five meals turned into 10!
"They were good, they were very good, they did not taste like they had been in the freezer - they were fresh they were great meals - I really enjoyed all five of the meals," Williams said.
"You kind of get all of it at once, saving money, saving time and eating healthier by preparing your meals ahead of time," Thompson said.
For more information on starting a meal sharing group go to Thompson's online blog at http://www.mealplanningmagic.com