Deals Episodes
Living Bouquets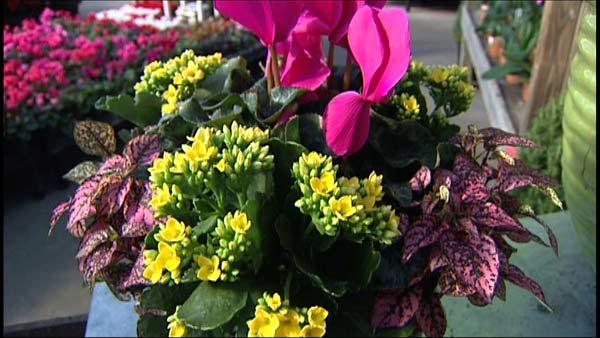 Sure they are beautiful, but flower arrangements are not only pricey, they don't last forever. In a few simple steps, you can create beautiful living bouquets, a gift that will keep giving.
"It's going to last a lot longer of course and you are going to have flowers that are going to bloom and bloom and bloom," said Eddie Russell, Cornelius & Calloways.
Gardening expert Eddie Russell says with three important guidelines -- anyone can create an amazing arrangement.
"We try to do three different levels. We try to have some height in our first plant which we call the "thriller" something that has a focal point to it. The second point we have our tier plants in the middle called the "filler." We have something that trails over the edge of the pot and we call that the spiller. So you have the thriller, the filler and the spiller -- those are the three levels.
First, pick a container to put the flowers in.
"No matter what kind of pot you decide to use, make sure it has a hole in the bottom for drainage, plants need that to survive," said Eddie.
Another key to success - what you put inside the pot, before you get started.
"You want to make sure you put some gravel or broken pottery in the bottom of the pot. What this will do is act as a buffer between the soil and the hole to let the water drain out. The next step is to pour your soil in. What I'm going to do is fill the pot about 3/4ths full with a good organic potting soil."
And the way you place the plants makes a big difference, too.
"Whenever you are planting plants into another container you want to make sure that you don't plant them too deep -- which is a pretty common problem. When you pot this into the other container, don't put this any higher than the top of this soil," said Eddie.
He recommends always placing the "thriller" (or tallest) plant in first.
"The first plant will be your tallest plant -- this the one I plant first. This is an antherium, which does very well outdoors or in the shade. We are not going to break that root ball up, we are going to leave it just like that," shows Eddie, "Once you put it in place make sure you push the soil around any void or air pocket you might have around the ball of the plant."
"Now that you have your main focal point in, the thriller, your tallest plant, you want to start putting some filler plants in. Don't be afraid to mix your colors, make a real bold statement with them," said Eddie, "Now what we are going to do is add the spillers. We are going to put one right here and you see how the foliage. It really adds nice contrast and some interest. I'm going to take this one right here and tuck it in, over on the inside. Then we are going to have this nice cascading ivy and put it right here."
And there you have it, a beautiful arrangement that could last for years.
"It's very easy to take care of," said Eddie, "We want to fertilize once a month. Just sprinkle in according to directions, water in thoroughly until water flows out of the pot."
Eddie says you don't always have to start elaborate.
"If you want to get started start with something small. Just one plant in the middle with three plants around the outer edge. This is the same design as the smaller plant we just showed you except it has three plants in it instead of two. It gives a very full appearance, very bold. It has a wow factor," said Eddie.
Large arrangement
Antherium
Reiger Begonia
Cyclamen
Pink Splash
Kolanchoe
Maiden Hair Fern
Ivy Pothos
Red Flower Arrangement
Cyclamen
Sweet Alyssum
Pink Arrangement
Cyclamen
Kalanchoe
Pink Splash
Medium size arrangement
Cineraria
Reiger begonia
English Ivy
Snap Dragon
For more information visit calloways.com/cornelius.