Deals Episodes
Kids Crafts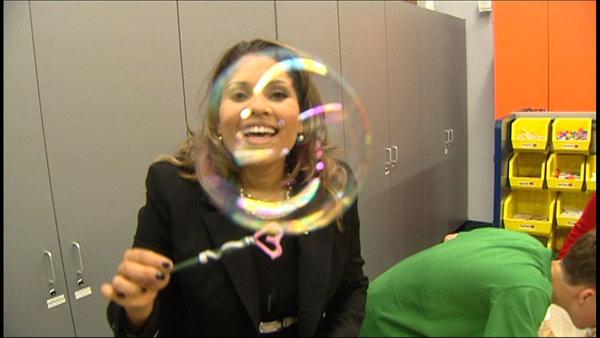 If you're kids are always complaining how bored they are, this one's for you. Making crafts at home is easy and budget friendly. Check out a few unique crafts your kids will be begging to try!
DUCT TAPE WALLET
Materials needed:
Duct tape (any color)
Scissors
Instructions:
Tear two pieces of duct tape 8 inches (one can be colored and one gray- the gray will be the inside of the wallet) Stick them together, sticky side to sticky side.
Continue this method over-lapping the tape by about 1/4 inch until you have about six strips of tape. Trim the excess.
Fold the tape in half.
For the wallet seam, measure the width and tear off a piece of tape that length. Attach the duct tape about half way and trim off the excess. Repeat on the other side.
SOUND SANDWICHES
Materials:
2 jumbo craft sticks
1 straw
Scissors
1 thick 1/4 inch rubber band
2 thin rubber bands
Instructions:
Take the thick rubber band and stretch it over the craft stick length-wise. Cut your straw into two pieces - big enough so that they overlap the stick on each end.
Pick one piece of straw and stick it under the rubber band - you want it about an inch down from the edge. Take your other craft stick, lay it over the top and use one thin rubber band to bind them together.
Take the other piece of straw and put it on top of the rubber band. Then take the other thin rubber band and wrap it around the other side.
BUBBLE WAND
Materials:
Pipe cleaner, straw, floral wire and or paper clips
Instructions:
Get creative and make a wand out of these items. You can use the straw or pipe cleaner as a wand. You can bend the paper clip, floral wire or pipe cleaner into shapes for the bubble maker.
BUBBLE SOLUTION
Materials:
Water
Dish soap
Glycerin or corn syrup
Instructions:
Have fun mixing the ingredients to create your own solution. You need more water, a relatively small amount of soap and very little glycerin.
"Today we explored mathematics in terms of patterns, geometry, measurements, we explored physics with sound, vibrations and we did chemistry with the bubbles as well as engineering with the bubble wands all that for maybe $10 bucks with the materials," said Keith Ostfeld with the Children's Museum of Houston.
Thanks to the Children's Museum of Houston for the use of their facility.
Check out Keith Ostfeld's blog for more unique craft ideas at cmhoustonblog.org.