Deals Episodes
How to Groom Your Brows and Apply False Lashes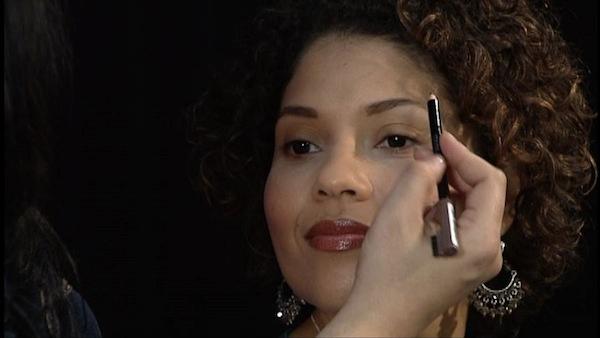 When properly groomed, eyebrows and lashes can make you appear younger and more rested. We know you can pay someone to do the job for you, but a makeup artist shows you how to save money with some easy and inexpensive techniques.
Makeup artist Darcie Teasley shares the best ways to groom and shape your eyebrows and how to apply false lashes to make your eyes pop!
How to Groom and Shape Your Eyebrows
Darcie tells us to use a face chart to help show you how your eyebrow corner should meet the outer corner of the eye.You can download
Darcie's eyebrow grooming guide here.
"What you want to do is make sure your arch is past your pupil, if it's before it will make you look like a clown!" she says. To fill in your eyebrows and make them look fuller, she says you should pick a color that's a few shades lighter than your hair, and make sure the pencil is sharp so you can be very precise with your shading. "Right now the trend is a thicker brow," says Darcie. "It's good for any face shape, age, or brow color." Darcie says that a fast and easy way to do your eyebrows yourself is to use tweezers and a straight razor. Using white eyeliner, mark all the hairs that fall out of the shape you want, and then with a straight razor you can get at a drugstore or beauty supply, use it in a downward motion in areas you want to groom. To clean up the brows, use tweezers with a sharp point and slant it closest to the hair as you can and rotate on different parts of the eye. If you have long brows, you can trim them with scissors, which you can find for under $10 at any drugstore. Brush the hair up in the anchor part of the brow. Cut the ends of the hairs that go above the main eyebrow line. "That is probably the most ouch-less way of grooming your brow," Darcie says. Threading has become a very popular way of grooming eyebrows, and with an organic thread spool that you can buy for about $6, you can learn to do it yourself. Cut about a foot of thread and tie the ends together. Hook it around your fingers and twist a few times. "I rotate about three or four times and you end up with these twists in the string and by going back and forth lifting thumb and index finger, it slides the knots down the string. When you put this on your skin and go in one direction, in the opposite direction of hair growth, it will yank the hair out at straight perfect line," she says. It might take a bit of time to learn the technique, but it helps to start by practicing on your leg. "If you can get good at doing your leg, you can really get good at doing your own threading on your face. It's really easy to do," says Darcie.
How to Apply False Eyelashes
When it comes to eyelashes there are so many options, but Darcie says you can enhance them inexpensively. A full set runs about $2, and individual lash clusters are about $10. There are a few kinds of lash glue out there. Darcie suggests using glue with latex, unless you're allergic. To help your lashes look more real, put mascara on your real lashes before applying the fake ones. Put a little dot of glue on each lash cluster and let it dry for a few seconds to help the lash stick better. "I feel it looks more effective and real when you're using lash clusters to use them all the way across," says Darcie. Take the one that's been drying and dip it in the glue on both sides and make sure both sides have glue on them. You can put them on top or bottom of the lash. Make sure you don't glue the lash cluster to the eyelid, but that they're resting on the bed of your existing lashes. If you're looking for a bit more volume and drama, Darcie suggests using the full track of lashes. "I recommend measuring them to your lash line and making sure this fits most of the time they need to be cut. I cut from the long end versus the short end because you need the short end to taper nicely to mix with the other lashes," she says. Put glue on the lash strip from end to end, making sure to have a dot at the corners, but don't overuse the glue. Rest it on the lash line and not the eyelid. "They go on pretty quick when you have a little tackiness to the glue," Darcie says. The glue will dry clear and you can finish off your look by putting a little eyeliner on top. For more from Darcie,
MakeupByDarcie.com.