Deals Episodes
How to Attract Birds and Butterflies to Your Garden With the Right Plants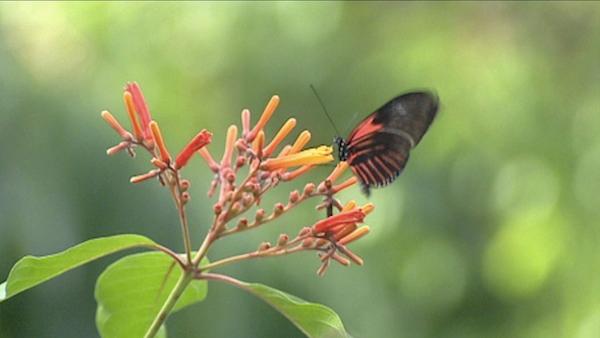 If you love nature, learn how you can attract birds and butterflies to your garden by planting certain varieties of plants. A gardening expert shares tips and tricks on how to make a great bird and butterfly habitat in your back yard.
It's a proven fact that listening to the sounds and watching nature helps reduce stress, but if buying premium bird seed and nectar isn't in your budget, you can attract nature by planting the right plants. Home owner Pat Nelson and Master Gardener Eddie Russell of Cornelius Nurseries show us a few of their favorites. To begin, Pat says birds need three basic elements to call a place home: water, food and shelter. If you have those, they will come! Some favorite plants birds like to eat and nest in:
Leatherleaf Mahonia:
It has berries the birds like, and a little later in the year, it will blossom. It's multicolor, and it will get six to eight feet large.
Nandina:
It has white blossoms and the red berries that birds enjoy.
Ardisia:
Also known as Christmas Berry, it's an evergreen with sword shaped leaves. It lives a long time and gets rather large.
Viburnum:
An evergreen that birds like to use for shelter.
Hummingbird Mint:
This plant has tri-colored, trumpet-shaped blossoms that attract hummingbirds.
Turks Cap:
A perennial with tubular-shaped, red flowers that attract hummingbirds. They bloom all summer and get six to eight feet tall. Since birds also like to eat seeds, seed producing plants are great at bringing birds to your garden. For seed eaters, master gardener Eddie says Maples and Magnolia trees are a great idea. Here are some of his other favorites:
Little Gem Magnolia:
It's hybridized for the homeowner so it only gets about 15 feet wide and 25 feet tall so you can put it in smaller spaces, but the bloom size is still large.
Sunflower:
When the flower starts dying it produces seed, which the bird loves. Sunflower seeds are found in premium bird seed mix, but if you don't want to buy the bird seed, they are so easy to grow. Mammoth sunflowers get up to 8 feet tall. Put three seeds in a hole one inch deep and in three months, you have sunflowers.
Attracting Butterflies To Your Garden
Eddie says many of the same plants and trees attract butterflies, which are also after sweet nectar.
Day lilies:
There are many kinds of day lillies, but Eddie likes the Stella De Ora dwarf day lily, which blooms in late spring and early summer.
Fennel:
This one plant attracts the black swallow tail butterfly. You get a full life cycle from eggs all the way to the hatching just from one plant.
Lantana:
It's a perennial plant that come back from year to yea. It blooms in late spring and all summer long until the first frost. Birds, like blue jays and mocking birds, will eat the seeds as well.
Penta:
They come in white, purple, red, pink and is another wonderful plant for butterflies and hummingbirds.
Buddleia:
This is the number one butterfly-attracting bush. The flower are 4 inches long, and butterflies are attracted to it in a crazy way! They will lay their eggs on it. Some sizes of this plant get four to six feet tall. It's a prolific bloomer from spring all the way until fall. For more from Cornelius Nursery, visit
Calloways.com.