Deals Episodes
Homemade Cupcakes for Less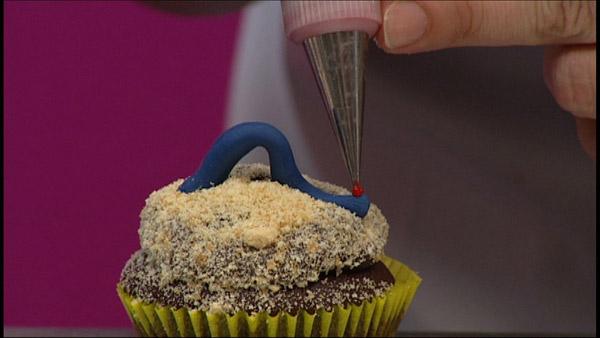 Cupcakes are all the rage right now, but instead of shelling out $20 for a half dozen -- save money by making your own! We're giving you tips for baking fabulously designed cupcakes.!
At her bakery, Who Made the Cake!, Nadine Moon spends most of her time decorating custom, over-the-top cakes that have catapulted her shop into the national spotlight.
Moon says to get that professional look you may want to invest in some basic decorating tools.
"The bags -- you can get one for each color you are going to work with," Nadine said. "Your tips - if you get the couplers it's easy to be able to switch your tips back and forth, which eliminates needing more bags. Get one coupler for every bag," she says.
"For our icing tips, I would get a couple of sized rounds and a couple of sized stars - those are going to be the ones you use most." She says you'll spend about $20 for four bags and some tips.
"The first step is after you've baked your cupcakes, one thing people never really think about is you really need these to cool. Most of our icing is made with butter in them, and even a store bought icing that you use is going to melt if your cupcakes aren't completely cool," Nadine said.
She suggests you make them the night before and next day they'll be ready for frosting.
"What I have on this is a basic star tip; it's a giant star tip. This is the easiest tip if you're at home to work with. What we do is you hold your bag - you're going to hold it and twist it in your hands so you are using your fist to twist, to press, and you just swirl it all around the cupcakes," said Nadine.
"These are some fun sugars you can buy at the store. Sparkly sugar, chocolate jimmies, these are things everybody has seen. We can take our cupcake and just kind of roll it around here, and now how sparkly and cool it is," says Nadine.
When you are ready to take it up a notch, Nadine says fondant can really transform your cupcakes from homemade to gourmet. She says a pound of fondant will run you about $7.
"You can buy colors as well, but it's easier to buy white and put a little food color in it and change colors," Nadine says. "It's easier to work in small pieces than roll out a giant piece and have it dry out on you. She dusts a little powdered sugar on the counter and her rolling pin and flattens the fondant.
"I'm using powdered sugar yes, because this is a sugar base so we don't want to put flour on it 'cause it's not a dough." she said.
Using cutters, which cost about 69 cents, Nadine makes some letters and shapes.
"If you take these and let them dry overnight they are going to get a little bit stiffer - what we're going to end up with is something like these and you can cut out all different sizes," she says.
And the creativity doesn't have to stop there. Using a smaller tip, Nadine adds icing to finish the look.
If you don't let your fondant dry overnight, no problem. Using a paper towel, Nadine smoothes the icing on top of the cupcake.
"You don't want to do it when it's right out of your bag because it will stick to it, but once you let it sit and crust a little bit this will work great," she says.
And now it's the perfect surface to lay your fondant. Then you can add your own design.
For the boys, Nadine creates some sports-themed cupcakes. Simply adding some lines down the middle, she transforms a chocolate cupcake into a football! And using red icing, she creates a baseball.
"I'm using a real tiny tip that was on here, but you can definitely do one that's a little larger because it will be easier to work with at home," Nadine says.
And boys and bugs kind of go hand in hand. "We're going to make a little dirt - so what I have here is some crushed Nilla wafers," she says. "Using fondant, we create some worms, by rolling it in our hands. "Then we can give him a couple of little eyes."
If you need something a little more grown-up for work, try topping your cupcake with some chocolate shavings. It's as simple as that!
For more information:
Nadine Moon, owner
Who Made the Cake! whomadethecake.com