Deals Episodes
Hipcycle Decor: Reusing Your Junk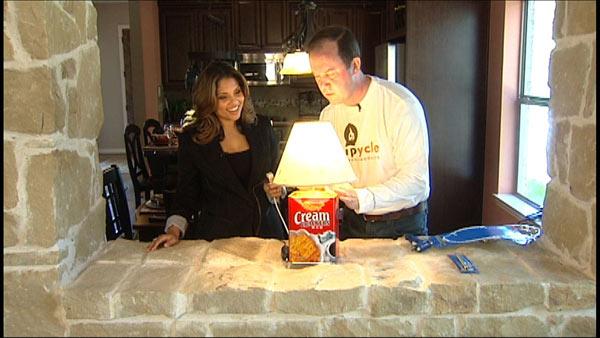 From chopsticks, to used bike parts to old grocery bags -- every day items can be given new uses!
Finding a new use for something in your home that you thought about throwing away saves you money and it is great for the environment. Andrew Sell's company "Hipcycle" turns old items into cool, useful stuff!
Some items he has made:
Candy dish made out of a tequila bottle.
Bowl made out of a bike chain.
Business card holder made out of a bike rim and pieces of bike chain.
Toliet paper holder made out of rail road track parts.
Fruit basket and soap dish made out of chopsticks.
Placemat made out of plastic grocery bags.
Planter made out of old building materials.
Drinking glasses made out of Perrier bottles.
A cigar holder made out of a liquor bottle, sliced right down the middle.
A lot of these projects are easy to do yourself.
Andrew and Kat work together to create a picture frame out of keyboard keys, book ends out of old records and a lamp out of an old cracker box. To see step-by-step video of the projects, click on the video link above.
For more information about Hipcycle visit hipcycle.com.
The amazing home we filmed in was a Gehan Model Home. For more information check out their website at gehanhomes.com.