Deals Episodes
Furniture Makeover with DIY Modge Podge, Chalkboard Paint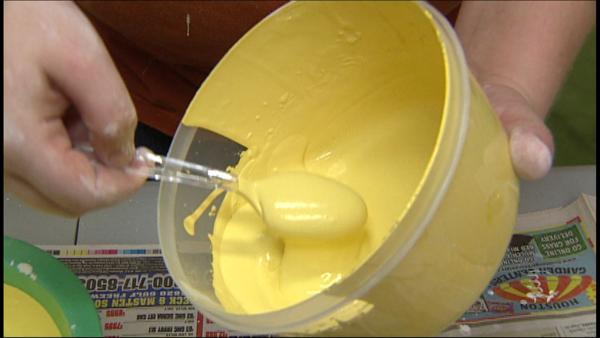 Update a boring side-table with a fabulous DIY makeover and learn how to make the supplies yourself.
A plain black table goes from blah to beautiful with grey and yellow paint and some coordinating fabric in this easy DIY project by Allison Cuvillier, owner of
Style Cycle clothing store.
For this project, you'll need Modge Podge and chalkboard paint, but you don't need to buy them. Allison shows you how to make them yourself. With the DIY ingredients, the entire table makeover costs less than $10. First, Allison thoroughly cleans the side table and uses masking tape to cover the edge between paint colors. Then, she mixes up her own custom colored chalkboard paint. Here's how:
DIY CHALKBOARD PAINT:
2 Cups of Latex Paint (lighter colors work best)
11 - 12 Tablespoons of Plaster of Paris
5 - 6 Tablespoons of Water
1. Measure desired paint in a container.
2. Mix Plaster of Paris and water in separate container, making sure to get all the lumps out.
3. Pour plaster mixture into the paint and mix VERY well.
4. Add more or less depending on how much paint you need.
5. Let sit for 30 minutes to an hour. Use this time to clean your piece very well and dry off.
6. Mix again and get to painting!
Apply chalk paint liberally with a gentle stroke. It's not necessary to sand furniture before applying chalk paint. You may need more than one coat, and be sure to allow each coat to dry.
If you're not going to use as chalkboard, seal with a sealing wax.
If you are going to use as a chalkboard, get a piece of chalk and cover the surface with chalk, then wipe off. This will allow the chalk to adhere to the surface.
Next, Allison moves on to applying the fabric. First, she mixes up homemade Modge Podge, which she'll use to adhere the fabric to the table.
DIY MOD PODGE:
2 Parts Elmers School Glue
1 Part Water
Mix and use. Let dry for 24 hours.
Allison cuts shapes out of matching fabric, lays them on the tabletop and paints the entire surface with Modge Podge. While wet, the homemade Modge Podge will show brush strokes, but it will dry clear.
These recipes are homemade, so individual results may vary. Also, be sure to use measuring cups and containers that you don't intend to use for food.
For more from Allison Cuvillier and Style Cycle, visit their
website
, or follow them on
facebook
,
pinterest
,
twitter
,
tumblr
or on instagram @stylecycle19th.