Deals Episodes
Finding the Perfect Bra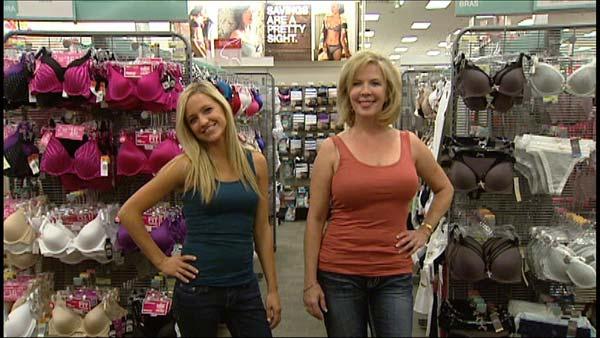 If you are wearing a bra that is uncomfortable, you are not alone.
"Eighty-five percent of women out there are wearing the wrong size bra," said image consultant Stacy Harris. "What it is, is they tend to wear the size that they were when they first started wearing a bra. That's what they still think they are. They don't take into account gaining weight, losing weight, having children."
But finding a good bra, that's the trick. Sure, you can go to a high-end specialty shop and get fitted for one, but there are aisles of options in discount stores, you just have to know what to look for.
First step, take a measuring tape and put it right at the top of your rib cage. That measurement will be the number part of the bra size, like if you are a 34, 36 or 38.
"Then what you want to do is figure out your cup size," said Harris, "That's more of a trial and error thing, that's why when you go try on a bra make sure you have a lot of time, go in there, be patient, get a lot of bras. It's kind of like when you shop in the stores you are a size 6 in one store and a size 10 in another. You could be an A cup in one store and a C cup in another. It just depends on the line."
Image consultant Stacy Harris says one of the common mistakes smaller chested women make is buying a bra that's too big, to try and look bigger.
"But what ends up happening when she does that is you end up getting this buckling. You can see this cup size is too big, so it's starting to buckle and bulge underneath her clothing," said Harris. "We have on this t-shirt. This is our t-shirt test. When she put it on, we didn't see the buckling and all of that, when it was just the bra, [but when she added] clothing once it was on top of it, it started to make everything buckle."
Look for a bra that give you a nice shape under your t-shirt. You don't want to see any buckling.
"As you can see, the bra she had on before had the buckling and the bulging," said Harris. "This one you can see gives her a beautiful shape, under the t-shirt. There's no buckling, it gives her a great shape, good coverage. When she turns around it looks as good in the back as it does in the front. I always tell people you want to look good coming and going."
The bra that fit best for our smaller busted model is Xhilaration brand, for $9.99.
Stacy says the problem larger busted women often have is wearing a bra that is too small.
"You can see here this bra that she has on, the cup is cutting into the top of the breast line. It doesn't come up high enough. But also she is a cup too small and that's what causes the spillage. All that does is it makes you look heavier when that is not the case. When she turns around you can see here and here how the bra is cutting into the back. And it's causing the bulge and again that is not what we want because it makes you look heavier," said Stacy.
"You can see it is digging into her shoulder. It's leaving an indentation. You want to make sure that again, you are not getting support from the strap, you are getting it from the band."
The correct fit was the $16.99 "Self Expressions" -- the lift bra with full support.
"She looks like she has lost 10 pounds just by changing her foundation garment! This one you can see under this very fitted tank top, it lays flat, gives her the coverage it needs through the breast line. It doesn't cut into her skin at all. It's just a nice smooth line. The breasts are up where they are supposed to be. Now I'm going to get her to turn around and you can see here there is no bulging in the back at all. It lays nice and flat against the skin. She said she was nice and comfortable."
Stacy says larger busted women should always get bras with thicker straps. And, what a difference the correct shoulder strap makes.
"This one is just laying on top of her shoulder, there's no indentation it's not pushing against her skin," said Stacy (showing the correct bra fit).
When you are picking out a bra, fabric is important. Stacy recommends getting a bra made out of cotton, spandex and lycra.
"It's a nice slick fabric, it's not going to stick. You want to be careful if you get a bra with too much cotton and you wear a t-shirt - it's going to stick. You want the spandex because you want the stretch to make it comfortable. And you want the cotton to make it breathable. All of the three combined really lead to a lot of comfort in the bra that you get.
These bras start at just seven bucks -- budget friendly price, with big results.
"It's amazing the difference it makes. We think it's such a small thing, but it's really such a big thing," said Harris.
Other tips from Stacy
1. How to shop wisely for the extremely large breasted women who can't find their size in a discount store
Call around and find out which stores offer a FREE bra and fitting consultation.
Make an appointment ahead of time for your fitting
Let the bra specialist know that you are on a budget and to please let you know of any upcoming sales
Invest your money in a nude or taupe colored bra -- this will be more functional than a fancier, printed or black bra
2. Altering your bra
Most people don't realize it, but bras, but like any other garment, can be altered!
This is particularly useful for those whose breasts are very different in size or those who have had breast cancer or other issues
For more information visit
/stacyharrisimages.com
.