Deals Episodes
Fighting Age Foods on a Budget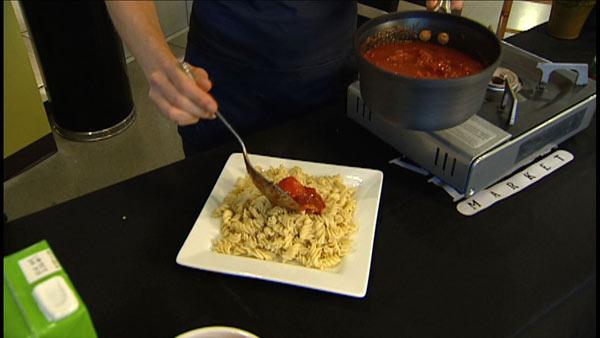 Ladies, admit it, we will do just about everything to stay young. From creams, to vitamins and oils, all of this stuff adds up! You can stay healthy with a few simple age fighting foods and you don't have to break the bank doing it.
"Avoiding disease helps keeps you young," said Registered Dietitian Catherine Kruppa. "Fighting off these free radicals also does that as well, because it lowers your risk of disease. Many of these foods have properties in them that help your skin, hair and nails."
Kruppa says we are not talking about your typical "healthy" foods. Here is her list:
1. Whole Grain Pasta
Whole grain versions of pasta (whole wheat should be listed as the first ingredient) have 3 times more antioxidants than enriched or refined varieties. Consumption of whole grains have been shown to reduce the risk of heart disease. The concentrations of antioxidants in whole grain flour used to make wheat pasta are comparable to those found in fruits and veggies.
2. Popcorn
Popcorn has 4 times more polyphenols-powerful cancer-fighting plant compounds-than the average amount found in fruits. When air-popped at home, it's a 100 percent whole grain food.
3. Eggs
Eggs aren't commonly considered a rich source of the antioxidant lutein (which protects your eyes from macular degeneration and cataracts because they have low concentrations of it, relative to top sources such as spinach. The lutein in egg yolks is absorbed more effectively than that in spinach, possibly because the yolks' fat helps our bodies process the antioxidant much better.
4. Canned Beans
Certain varieties of dried beans contain high levels of antioxidants, but Americans commonly eat more canned beans. The scientists found that while all canned beans contain antioxidants, small red beans have the highest levels, followed closely by dark red kidney and black beans. In fact, darker canned beans have as much as 3 times more phytochemicals-plant compounds that wipe out free radicals to protect your cells and repair DNA damage-than white kidney and great Northern beans.
5. Yogurt
Just 1 cup of low-fat plain yogurt provides at least 25 percent of the daily value for riboflavin-the same that's in 1 cup of boiled spinach. While not an antioxidant itself, riboflavin (a B vitamin) is critical in promoting antioxidant activity.
6. Canola Oil
Heart-healthy canola oil (which is less expensive and milder tasting than olive oil) is rich in the antioxidant alphatocopherol. Alphatocopherol is one of eight antioxidants in vitamin E, which scientists have found keeps the fats in "bad" LDL cholesterol from oxidizing and forming free radicals, potentially leading to cardiovascular diseases and other chronic conditions. Close to one-third of women have low concentrations of alpha-tocopherol, so use canola oil when baking or anytime you need a neutral-tasting oil for sautéing.
7. Coconut Water
Coconuts are one of the most treasured foods of all time and they are very high in antioxidants which prevent disease. Anything from diabetes, heart disease and particularly high blood pressure. Coconut water itself is just the water of the coconut has very high concentration of potassium. It helps with replacing the electrolytes you may have lost - better than any sports beverage. It also contains the high amount of potassium that helps lower your blood pressure. It may take you a few times to fall in love with it as it may be an acquired taste.
For more information:
http://adviceforeating.blogspot.com/
Get Social with Deals:
Like Deals on Facebook: facebook.com/DealsTV
Follow Deals on Twitter: twitter.com/Deals_TV
Pin Deals on Pinterest: pinterest.com/DealsTV/
Due to the pre-recorded nature of this program, some prices may not be current. Please check your local retailer.