Deals Episodes
Faux Painting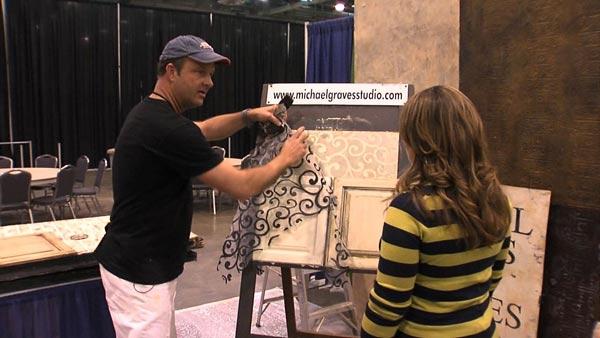 Faux painting can add a creative touch to a room but it can be pricey if you hire a professional. Artist Michael Graves has some tips for doing it yourself.
"So let's say you want to take your cabinets and paint them and make them look antique, but they are not. That's faux," said Artist Michael Graves, "And you can get that by using various paints, or glazes or stains."
Artist Michael Graves says hiring someone to 'faux' paint your home could cost thousands of dollars but really anyone can do it.
"People that know that they can follow directions, and then they can make a faux finish. Just learn it from a professional and then go do it yourself."
First, Michael changes plain wood cabinets. He recommends Old Masters Gel Stain because it will stick over plastic, metal or wood. First, Michael puts an even coat of the glaze over the cabinet door. Then, he takes a towel and lightly wipes it away, leaving behind a darker finish for the cabinet.
He does the same thing with a white cabinet door. Michael says you don't have to worry about putting the paint on evenly, because you are just going to wipe it off. The result is a smoky, rustic look on the once white cabinets.
One of Michael's secrets to making creative designs on walls is using fabric from the craft store.
"For years I've been doing stencils, but stencils are only like 4 inches long, but I've had some clients want me to do stencils for a thousand square feet of a room. I found this fabric to work as a stencil."
Michael says use thumb tacks to put the fabric on the wall, and then cover it with plaster.
"This is Venetian plaster from Home Depot, comes in any color in the world, black, pink, whatever. This is more of a linen color."
Michael covers the fabric with the plaster, and then peels the fabric off the wall. There is now the same design from the fabric left on the wall. Once that dries, Michael recommends covering it with any color you want. You will see the color of the paint with the design of the fabric behind it.
He also uses smaller doilies from the dollar store to decorate cabinet doors. He says this works the same way as the fabric method.
For more information faux painting by Michael Graves check out http://michaelgravesstudio.com