Deals Episodes
Faux Finish on Walls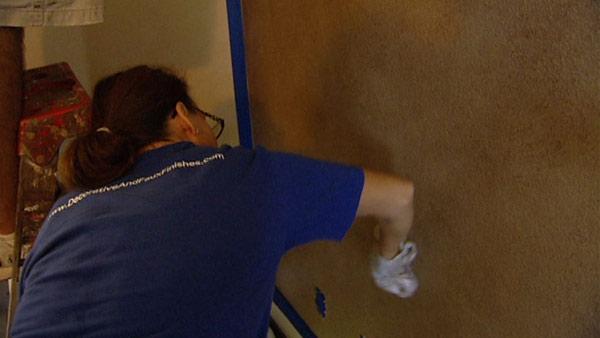 Designers love the look of faux finishing on your walls, but getting the look can be expensive. So we went to the pros to find out how to get the look on a budget and found the secret just might be in the bag.
"We've been in the house a few years and we're ready for some change," says homeowner Alyson Beicker. "The rooms that we haven't done, you can also tell they look very plain."
Alyson Beicker is giving her master bedroom a facelift.
"We're going to use some metallic's and tints to help enhance the room," said Cindy Howard with Decorative and Faux Finishes. "Your room has a little bit of a challenge that there is flat paint on the wall," she tells Alyson.
Cindy says it's best to start with an egg shell or satin sheen coat. But don't worry if your base coat has a flat finish.
"What we're going to do initially is roll with the clear, before we roll with the tinted glaze," she said.
The clear coat application will buy you more time before the glaze dries.
Once the colored glaze is applied -- it's time for the painter's secret! "Every homeowner can do this with some free supplies," Cindy said.
To get this fabulous faux finish a plastic bag is all you need. Before you start make sure you turn the bag inside out or you could wind up with ink stains from the ink on the bag on your wall.
Go around the wall -- blotting the tinted glaze while it's wet. This will create a marbling effect giving you depth and texture.
With this method Cindy says homeowners will spend a couple hundred dollars on supplies, compare that with the thousand dollars she says it could cost to have a professional come in and do it for you . Now that's a deal!
You can also try playing around with different types of bags! Heavier bags will give you a thicker, defined finish. Thinner bags, like from the grocery store, may produce a more delicate, softer finish.
For more information visit facebook.com/DecorativeAndFauxFinishes.
Get Social with Deals:
Like Deals on Facebook: facebook.com/DealsTV
Follow Deals on Twitter: twitter.com/Deals_TV
Pin Deals on Pinterest: pinterest.com/DealsTV/
Due to the pre-recorded nature of this program, some prices may not be current. Please check your local retailer.