Deals Episodes
Father's Day Dinner on a Budget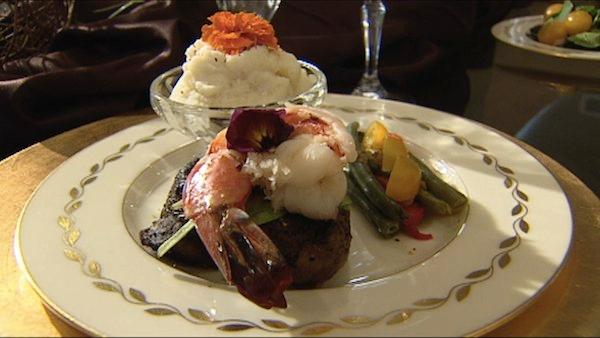 Want to take dad out for the dinner for Father's Day but can't afford a fancy restaurant? Here's how you can make the classic surf and turf meal with beef tenderloin and jumbo shrimp plus sides and dessert for the man in your life for about $12.
Even if you're not a professional chef, Clinton Jackson, owner of CJ's Masterpiece, says you can make a restaurant quality meal at home and on a budget! At a restaurant, you may spend $50 or more for a surf and turf meal, but with a few substitutions and tricks, you'll have a four-star meal for way less. Here are his tips:
Perfect Beef Tenderloin
Instead of prime rib, opt for a beef tenderloin to save money. Ask for a few pieces versus getting a $30 to $40 chunk, if you're not going to eat it. We got a 4 ounce piece for just $4.78. Clinton uses traditional steak seasoning and sears it on the stove for 2 minutes on each side. Then he puts it in some foil and bakes it on 350 for no more than 15 minutes for medium well.
Buttery Garlic Mashed Potatoes
Peel and dice the potatoes and boil until soft - about 5 minutes. Add some butter, garlic and pepper. CJ likes to use white pepper so you don't see big black flakes. CJ says anyone can spoon the mashed potatoes onto a plate, so to give it a gourmet feel, you can put it into a plastic zip top bag and pipe it into an ice cream dish. CJ got his for 50 cents. Garnish with an edible flower, which you can get for about $2 a box at the supermarket.
Delicious Sauteed Vegetables
You can buy a bag of green beans or just get a single serving, which CJ got for just 87 cents. Sauté them for a few minutes and then put them into an ice bath for two minutes. Sauté it again for two more minutes, and then they're finished.
Succulent Jumbo Shrimp
Opt for jumbo shrimp instead of a lobster tail to save money. CJ purchased the shrimp for $2 each. Clean and de-vein them, but leave the tail on for presentation. Poach them in a combination of half water, half butter for about 2 or 3 minutes until they're pink or translucent in color. Put shrimp on top of the beef tenderloin and garnishes with some basic salad mix and an edible flower. Drizzle the juice from the beef over the top. Voila! A beautiful meal for $12.72!
Easy Dessert Options
If you don't have time to bake dessert, hit the supermarket bakery and just add your own homemade touch! Here's what CJ did with some bakery finds:
Salted Caramel Cupcake: CJ drizzled caramel on top and added a sprinkle of caramel dust.
Traditional Chocolate Cupcake: The chocolate cupcake came with hazelnut ganache, but CJ added an actual hazelnut and sprinkled powdered sugar on top.
Basic Turtle Cheesecake: CJ added caramel and pecans and drizzled chocolate on top.
Supermarket Mousse: CJ added a few fresh raspberries to make it look homemade.
Instead of flowers, CJ chose Wheatgrass as a centerpiece and added a candle in the middle. Put it all together, and it's a special dinner fit for a king, but on a paupers budget! For more from CJ, visit
cjaworkofart.wix.com.