Deals Episodes
Eyeglasses for Face Shape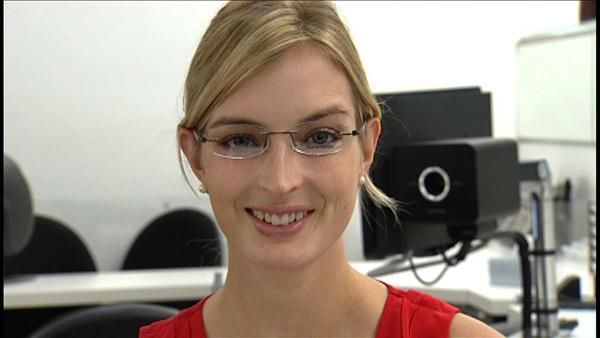 Eyeglasses can be expensive! Even if you have insurance, you could pay hundreds of dollars for one pair. So, finding the right fit the first time is crucial.
"Your glasses are a fashion accessory, they are an extension of you," says Dexter Jones, with LensCrafters. "We want to make sure when a customer comes in, we find out who they are, what they like, what is their style is, based on that information we find out what they like for their style."
Optician Dexter Jones says by using a few simple guidelines, he's able to fit anyone with the right glasses.
"There are four basic face shapes. There is square, round, oval and heart shape faces as well. Round shaped faces are faces that are equal in length and also width. Those faces really are shapes that go well with any frame that has definition. For example, square frames, rectangle frames. Anything that has definition and can actually add definition to a round face," said Jones.
"Square faces have really dominate chin, dominate forehead and equal lines on the side. These face shapes are the really strong face shapes. You want to get frames for those types of folks that soften those lines. Round frames, oval frames. Anything that is opposite of the face shape," he said.
A person with an oval shaped face has a lot more options.
"That's the one that most opticians love to sell glasses to," said Jones. "The definition of it is slightly longer than it is wide. But very balanced in their features. So that face shape can go well with just about any frame shape. As long as it looks good, doesn't extend beyond the face, oval faces can wear just about any frame."
Now for the hardest customer to fit.
"Heart shaped faces are probably the most difficult because their forehead is very prominent broad," said Jones. "Their cheekbones are broad, yet their chin is very narrow and small. Those faces you want to get something that is very thin, very thin rimmed frames -- something that is drill mounted, or rimless frames. Anything that really shows less in that case less is more."
LensCrafters also uses what is called an "AccuFit" system. It's a digital measurement program that helps fit patients with the exact pair of glasses for them. It also shows customers what their glasses will look like on their faces, from all different angles.
No matter what frame you choose, Jones says the prescription is the most important part.
"It's important to get a current prescription. Our eyes and our vision changes once a year, almost every year our vision changes. Unfortunately, most customers do not know that," said Jones. "In the end it's about what you like. It's about what looks good on you and what makes you feel good."
Here is a list of the eyeglasses the models in our story were wearing:
Glasses for Round face shape model
Ray Ban RX6076 $159.95
Ray Ban RX8582 $209.95
Glasses for Square Face Shape
Vogue VO2576b $159.95
Vogue VO3550 $159.95
Glasses for Oval Face shape
Ray Ban RX5234 $159.95
Essentials EN7680 $99.95
Glasses for heart shaped face
Feather Wates FW1018 $179.95
Ray Ban RX8406 $229.95
For more on the Accufit digital measuring system visit www.lenscrafters.com.
To find a LensCrafters store near you visit lenscrafters.com.