Deals Episodes
Tips on Shopping Estate Sales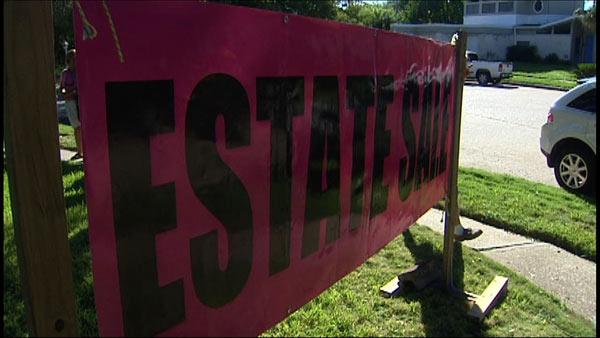 You can find hidden treasures at estate sales, which have become very popular. Kat Cosley has some tips on what to look for when you are shopping at an estate sale.
"They show up thrilled for the hunt. There's treasure, what can they find," said Lyn Huck.
Lyn Huck runs estate sales. She says it's not what you might think.
"The majority of estate sales conducted these days really have nothing to do with those that have passed on. In previous years, that's all an estate sale was, but now with today's baby boomers aging out and needing to move to a smaller environment most estate sales are done for those that are still with us, over the age of 70 and realize they no longer need a house with all this stuff. In an estate sale you are liquidating the contents of a house, not just what has been crowding up a garage or crowding up a closet, which is what a garage sale truly addresses," said Lyn.
Meaning, you often will find items that you can't find anywhere else.
"Old kitchen ware, Wagner wear, Griswold, things that are decades old that haven't died because of the quality there," said Lyn. "We've got a survey compass back here made by Stancliff and Drayper. Edmond Drayper was the father of survey compasses, that's a collectable item."
"These are old fashioned hand wooden plains so you literally hand carved the trim with the time table saws, all the gizmos you added didn't exist. These gentlemen would have these in their trunks and go from work site to work site and that's what they used to mold out houses."
Unique, hidden treasures were everywhere.
"All right guys let the fun begin!!" said Lyn, as she opened the door.
Estate sale shopper Luella Bolding knew exactly what she wanted.
"I like those chairs. I usually buy chairs like that. Some of our favorite. I was here before early; I was the first car here. So that was my determination to get those chairs," said Bolding, "I just love it. I find some neat things all the time!
Lyn says most estate sale shopper's look for certain things.
"Then there are women who collect nothing but quilts or collect nothing but beaded purses, or hat pens."
"That's what I do -- vintage jewelry. I'm a reseller. I buy it and then resale it. I do shows and things like that. You can get good bargains and nice pieces and it's fun," said Connie Rogers.
Connie Rogers loaded up on vintage jewelry and paid one dollar for each item.
"This is a nice stretch bracelet, probably from the 20's,30's,40's, rhinestone. It's popular with the 30 year olds, they wear fun things like that. Cuffs are very popular. Hopefully if you buy them for a dollar you can sell them for $20, $25 depending," said Rogers.
It's not all business; some people enjoy estate sales just for the fun of it.
"I'm not a reseller, I'm just a person," said Russell Beverage. "I look for them in my area and I find something neat. My wife and I like to look at these and find old stuff you can't get anymore. It's fun!"
Russell found a unique clock he decided to buy.
"That it's an old wind clock. My wife likes those kind of things. I look for stuff I think she would like," said Russell.
"We call it hidden treasures, that are what we look for. We love to go to estate sales and find little knick knacks," said Deedra Johnson. "I get a warm feeling when I come to estate sales and homes and see the things I enjoy. I see a lot of old time stuff that you hardly see in modern times these days."
And at this sale, there was a special treat. A family member of the woman who owns the home stopped by.
"I thought she would have problems with this estate sale," said Kathy Mitchell Brown, mother-in-law is having the estate sale. "But I brought her over the day before the sale so she could see everything and the only thing she had to say was 'I can't believe the prices she's putting on these things!'
"She is thrilled that other people are going to get to enjoy these treasures that we just don't have room for anymore," said Brown.
One item they were selling was a 1997 Cadillac with just 30,000 miles on it. Lyn says you can often find a great deal on vehicles at an estate sale.
"People come they check out the car. They can drive it, they can kick the tires they can look at this that and the other and then they offer a private bid. We keep those sealed until the sale is done. When the sale is over, we open them up and the person that was the highest bid now owns the car," said Lyn.
Inspired yet? If you want to get started shopping estate sales, the first step, do your homework.
"Look on the web, get an idea of what the estate sales offer based on the pictures," recommends Lyn. "On Friday morning for the first sale day everybody is very anxious to buy things. Furnishings, the best thing to do is grab the tag. If you have the tag in your hand, you have possession of that item. Smaller items, grab those items because you can carry those items. We offer areas where you can hold it while you still shop."
And, waiting to buy an item you like could save you money.
"Everyone who conducts estate sales has a progressive discounting. Some of the discounts are different based on who manages it," said Lyn. "Initially on the first day there's no discounts. By the end of the sale, however, that may last - the discount is 50 percent."
Discount or not, Lyn says shopping an estate sale is a one of a kind experience.
"Keep in mind that there are treasures hidden all over the house so take your time and just look in every nook and cranny."
Something the owner of this home would have wanted, too.
"She has taught me to value things, old things," says Brown. "To value them for their beauty and to be able to hold them for their history and then to let them go. So that they would be passed on to other people."
More tips from Lyn Huck on estate sale shopping:
Don't feel rushed. Scan each room and then go back to do the digging.
Be prepared. An estate sale could draw a frantic crowd, ready to rush in for the "best" items.
Bring your measuring tape, so you can check furniture or artwork to see if it will work for your home.
If you really like it - buy it. If you are on the fence, wait and come back. You may get it at a discount later.
Remember, all sales are final.
For more information visit
www.Lynhuck.Com
.