Deals Episodes
Essential Kitchen Tools on a Budget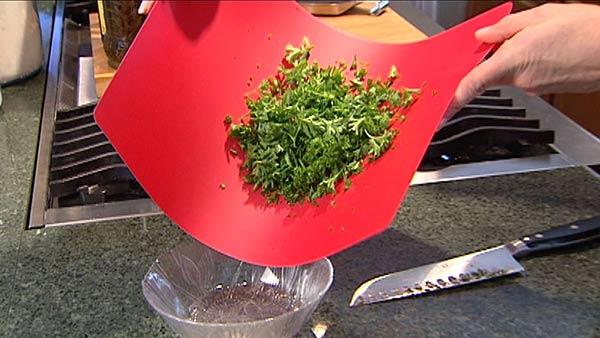 There are so many kitchen tools and gadgets out there, so how do you know what's worth having and what will just end up being kitchen clutter? Here are the tools every cook needs, which ones you should splurge on and where you can save.
Before you spend your hard earned cash on gizmos you don't need, the Dining Diva, Molly Fowler, gives her opinion on the best kitchen essentials even a novice cook should have.
Zester:
Use it to shave chocolate, orange peel, nutmeg, and more. You can find a zester for as little as $9.95 online or at most stores for about $15 to $20.
Bench Scraper:
Use to cut cookies and to scrape small shavings into a dish. Bench scrapers can range in price for as little as $2 all the way up to $10.
Spill Stops:
Put this on top of your pots to avoid boiling liquids from spilling over. This nifty gadget can run $15 at your big box stores and go up to $30 at specialty stores.
Oval Measuring Spoons:
Use these to get into jar with small tops. You can find most types of measuring spoons for about $1. Oval measuring spoons run about $14 to $20, depending on the store.
Serrated Peeler:
They can peel skin off a tomato, kiwi and more. Serrated peelers can range from $9.95 and up, a little more than a regular peeler, but they offer a lot more uses.
Flexible Cutting Board:
Having a variety of cutting boards helps stop cross contamination. Using flexible ones makes putting the ingredients into your dish a whole lot easier. Depending on how many come in a pack, you can expect to pay about $5 for flexible cutting boards, but you can pay up to $15.
Tongs:
They are an extension of your hand and can reach places you can't. Regular tongs will cost you as little as $3, but silicone tongs can range anywhere from $7.99 to $30.
Saucinator
: A fancier version of a whisk, this will get in the corners of your pan to ensure everything gets mixed. A regular whisk can cost you about a dollar or more, while a saucinator like Molly's runs between $9.95 up to $15.99.
Silicone Spatulas:
Most spatulas have a silicone scraper, but Molly's is fully made out of silicone. You can leave it in the dish and not worry about it getting too hot to touch. Plus, one end is usually smaller than the other and can be used when you need a tiny spatula. You can buy a set of silicone spatulas at most store for $10 or up to $15.
Kitchen Items to Splurge On
These are big ticket items. If you can afford it, here are Molly's suggestions of appliances a good kitchen needs to have.
Stand Mixer:
Molly uses a Kitchenaid. They're great for doughs, mixes and are much easier on you than the hand mixers.
Knives:
Don't buy a set. Instead invest in about two or three that you will use often. The better quality, the longer they'll last, and the better they'll cut.
Pots and Pans:
Same as knives, avoid buying a set. Instead invest in two or three that you will use most often. Her suggestion is to own at least one cast iron skillet!
Blender:
The better the blade, the better the blend. Molly can't live without her Vitamix, but they cost several hundred dollars. If you buy a blender, don't buy the cheapest version (unless you never intend to use it!) as the motor or the blades are likely to give out, which means you're going to have to purchase a new one. For more from Molly, visit
theDiningDiva.com.