Deals Episodes
Easy, Inexpensive DIY Organizing Tools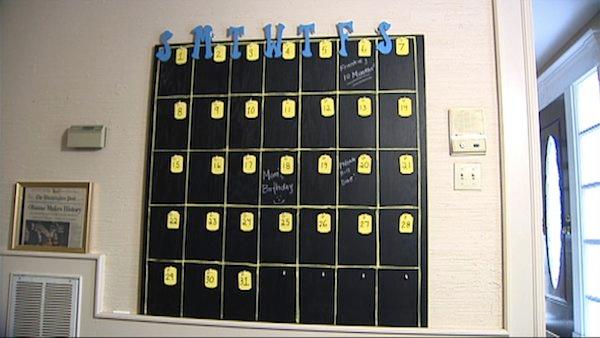 If you find yourself constantly battling clutter or trying to keep your schedule under control, these two projects for you. Learn how to create a chalkboard wall calendar to keep your family's days in order, and two tricks to keep your kids and your chargers and cords organized with an inexpensive hanging shoe organizer.
DIY Chalkboard Wall Calendar
Need to organize your family's schedule? Try this easy-to-make chalkboard wall calendar.
Deco Art Chalkboard Paint
Americana multi surface paint, we used yellow and blue
Deco Art painting pen
1 piece of plywood, we used a 4' x 4' sheet
Paint rollers
Sponge brushes
Power drill
Masking tape
Small hooks to hang the wooden tags on
Wooden letters, we used 2" letters
31 wooden tags
2 large hooks to hang the board
Gorilla glue
Glue Gun
Chalk
Yard Stick
1. Paint two to three coats of Deco Art chalkboard paint onto the plywood, letting it dry 10-20 minutes between coats. 2. While the chalkboard paint is drying, paint your tags in yellow and your letters in blue (or colors of your choice). 3. When your tags are dry, use a Deco Art painting pen to write the days of the month from 1 -31 on each tag. 4. Using the yard stick and masking tape, measure out 7 squares from left to right and 5 squares from top to bottom to make your calendar squares. Our squares measured out to 6.5" wide x 9.5" long, leaving 3 inches at the top for the letters and 1 inch on each side for a border. 5. Using the Americana Multi Surface paint or a Deco Art painting pen, draw the lines to represent the days of the month. 6. Remove the masking tape. Let paint dry. 7. Take one of the tags and place it at the top right corner of the first square, and use your drill to mark a spot where you will hang the tag. 8. Screw one of the hooks into the hole that you have drilled. Repeat this step for each square and tag. 9. Hot glue the letters of the week to the top of the plywood calendar to represent each day of the week. 10. Hang each tag on each hook. Write your family's schedule and to do list on the calendar so everyone sees and remembers what there is to do! DIY Kids' School and Snack Organizer To keep your kids organized, use a hanging shoe organizer! You can use an inexpensive shoe organizer and some labels or sticker paper. Print out the days of the week, as well as any other labels you like - for snacks, notes, and anything else they might need each day. Just peel and stick the labels to your organizer, labeling each row with a day of the week, and put snacks or other items inside the pockets.
DIY Cord and Charger Organizer
Do you ever find yourself searching all over the house for those chargers and cords to your phones, laptops and other electronics? Here's another use for a hanging shoe organizer! Pick up an inexpensive shoe organizer and some labels. Next, print or write what items you will be putting in each pocket of the shoe organizer on the adhesive printer paper or card stock and adhere the labels to the pockets. Next place all the cords and chargers in each pocket and hang it behind a door where you can access it easily, while it stays out of view. You can use this same idea to organize snacks for the kids for each day of the week, or organize your bills and receipts. For more from Adeina Anderson, visit
adein8.wix.com/craftingwithadeina.